TV News Story - Nanoose Forest fight
Thursday, November 10, 2011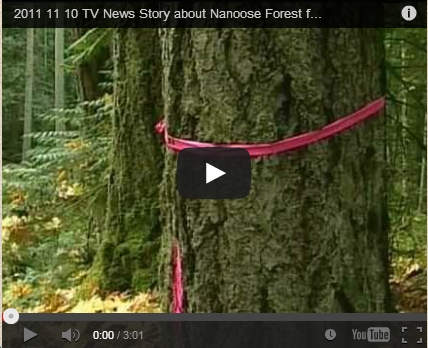 NANOOSE BAY -- A Vancouver Island environmental group has silenced chain saws on a piece of crown land just outside of Nanoose Bay. After years of lobbying the provincial government to stop logging on the 160 acre parcel of land failed, the eco-crusaiders have halted a government sanctioned logging project by making the workspace unsafe for cutting crews. The "Wilderness Committee" says reckless logging in the region outside of Nanaimo puts old growth Douglas Fir at risk of total extinction. Annette Tanner with the mid island chapter of the environmental concern says the Clark government made a huge mistake allowing loggers to down trees in the area they believe should be protected.
On the other side of the debate is the Nanoose First Nation. As protesters attempted to stop the project over the past two years the first nations band competed for the contract to down trees in the area. The Nanoose band was awarded the contract, but have been side tracked by organized protesters in the past two days. The financially strapped band is relying on dollars the logging project brings in to fund everything from schools to social programs.
Protesters say they will continue to hike through the area and stop logging, as the first nation band say they are considering RCMP and government intervention to revamp their long awaited project.