TV News Story - Wilderness Committee fights to protect threatened Nanoose Bay Forest - DL 33
Saturday, January 29, 2011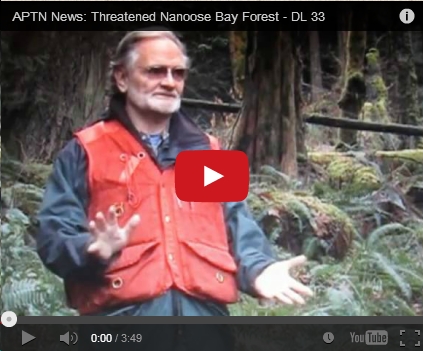 Aboriginal People's Television Network story on the threatened Nanoose Bay Forest - DL 33
More info: The Nanoose Bay Ancient Forest (also known as District Lot 33 or "DL 33") is a mixed stand of old-growth and second-growth trees on Crown land in the endangered Coastal Douglas Fir ecosystem on central Vancouver Island. The 64 hectare parcel includes significant tracts of extremely rare old-growth Douglas firs (with many giant trees, multi-layered canopies, and canopy gaps that characterize ancient forests), second-growth stands with scattered, individual old-growth Douglas firs left behind from the original logging a century ago, and younger, pure second-growth stands logged 40 years ago.
Only 1% of the old-growth forests in the Coastal Douglas Fir ecosystem still remain and 40% of the entire ecosystem has already been eliminated by urbanization and agriculture. An important wetland is also found in the area, as well as species at risk like the northern alligator lizard and red-legged frog. The Coastal Douglas Fir ecosystem is among the top four most endangered ecosystems in Canada, along with Manitoba's Tallgrass Prairie, southern Ontario's Carolinian Forest, and BC's "Pocket Desert" near Osoyoos.
The BC Liberal government has approved logging by the Snaw-naw-as First Nations band to cut 18 hectares of the parcel, which includes many of its older and younger trees. Logging could begin any day. Instead, conservation financing by willing governments and private organizations could provide several hundred thousand dollars for the seed capital to support sustainable business ventures such as in ecotourism, cultural tourism, and non-timber forest products in the Mount Arrowsmith UN Biosphere Reserve where the Nanoose Bay Ancient Forest is located. This would provide the long-term employment and revenues for the community as an alternative to a couple months of work at most from logging the endangered forest.
http://www.nanoosebayforest.com
http://www.facebook.com/SaveDL33