Victory for wilderness and climate as frack sand mine puts plans on hold
Tuesday, February 04, 2020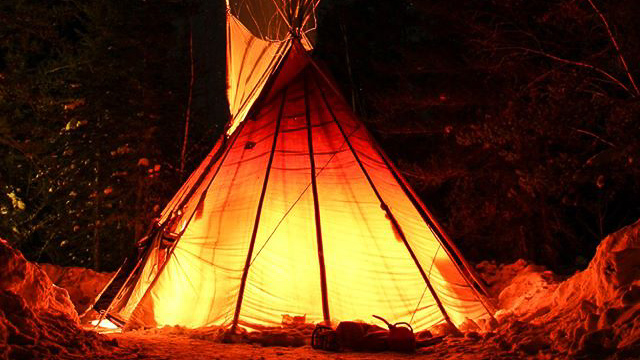 Canadian Premium Sand announces they won't move forward right now with mine in Hollow Water First Nation territory
WINNIPEG – The health of wilderness, climate and Manitobans is safer as today Canadian Premium Sand (CPS) shelved construction plans for a devastating frack sand mine in Hollow Water First Nation territory. Camp Morningstar and the Wilderness Committee are celebrating as the death knell is sounding for this dangerous fossil fuel expansion.
"Our attachment to our lands and waters has been threatened by Canadian Premium Sand," said Marcel Hardisty of Camp Morningstar. "For more than a year our education and outreach at the camp have been in peril. Now we can literally breathe easier and grow."
Camp Morningstar is a sacred camp set up on Hollow Water First Nation territory to protect the land from CPS' proposed frack sand mine. On Feb. 15 they are hosting a celebration of the one-year anniversary of the lighting of their sacred fire.
CPS is shelving the project citing poor market conditions and declining frack sand prices in Western Canada, although these conditions have been forecast for years already.
According to the documents filed by CPS, the proposed frack sand mine jeopardizes the surface water, the underground aquifer, threatens endangered species and poses a grave health risk through airborne silica sand dust.  
"This proposal was a disaster for everyone from day one," said Wilderness and Water Campaigner Eric Reder. "It's a colonial capitalist gamble menacing the community members of Hollow Water First Nation, their lands and waters and our collective climate."
All fossil fuel expansion must be stopped if we are going to provide a liveable climate for our future, according to the majority of scientists.
"The financial collapse of the oil-and-gas sector is already widespread and will never recover," said Reder. "This is a clear signal the world is moving on from fossil fuels and the ecological destruction it leaves in its wake."
–30–
For more information, please contact:
Eric Reder | Wilderness and Water Campaigner
204-997-8584, eric@wildernesscommittee.org
Marcel Hardisty | Camp Morningstar
431-588-3319