You are the momentum for old-growth
Tuesday, February 28, 2023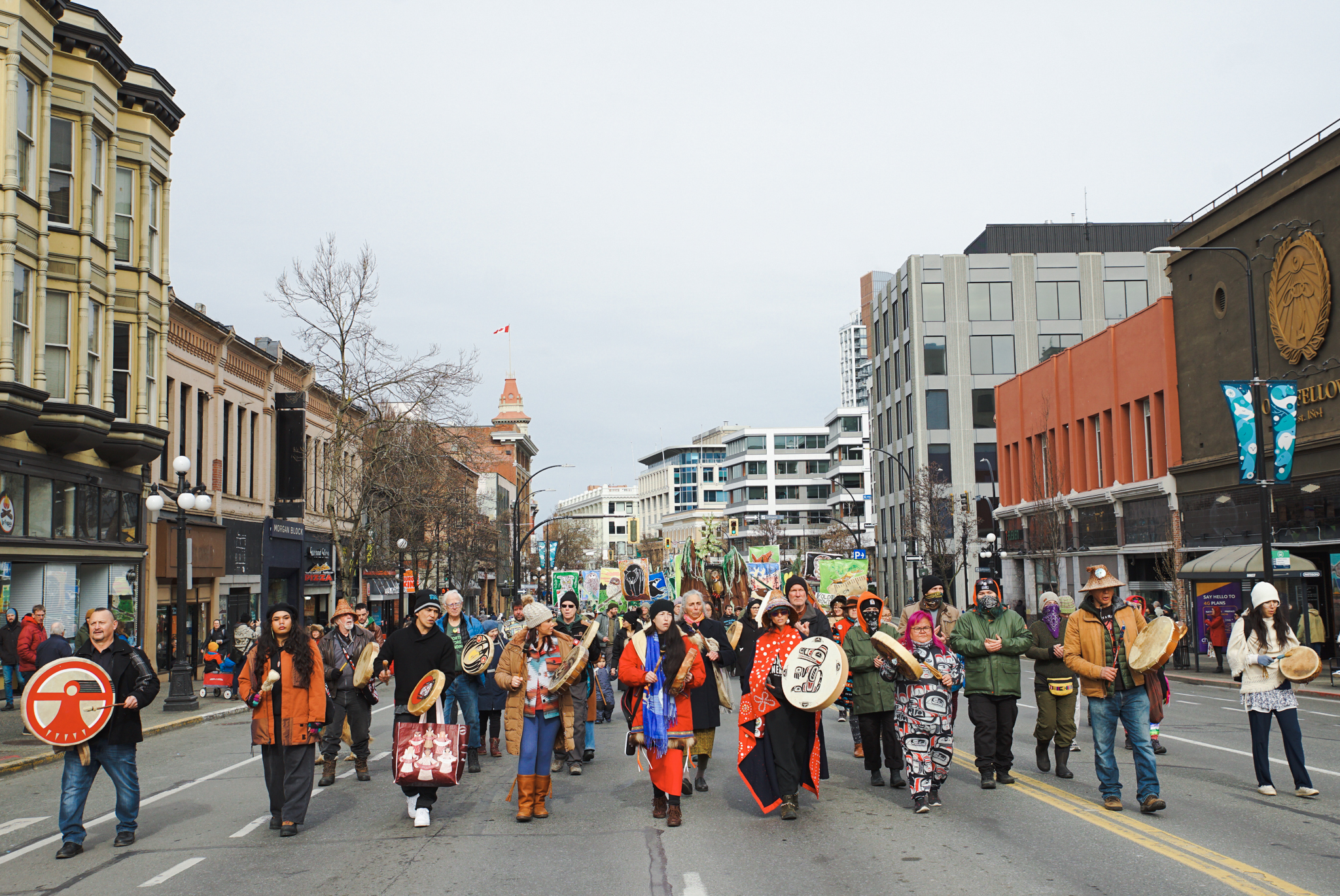 More funding and commitments + a GIANT rally for ancient forests
Last Saturday, with temperatures almost ten degrees below average and snowflakes swirling in the air, thousands of you were out on the streets of the BC capital, marching for old-growth forests!
The United For Old Growth march and rally was an enormous success. Thanks to those of you who attended, followed online, promoted within your networks or donated to make sure it could happen!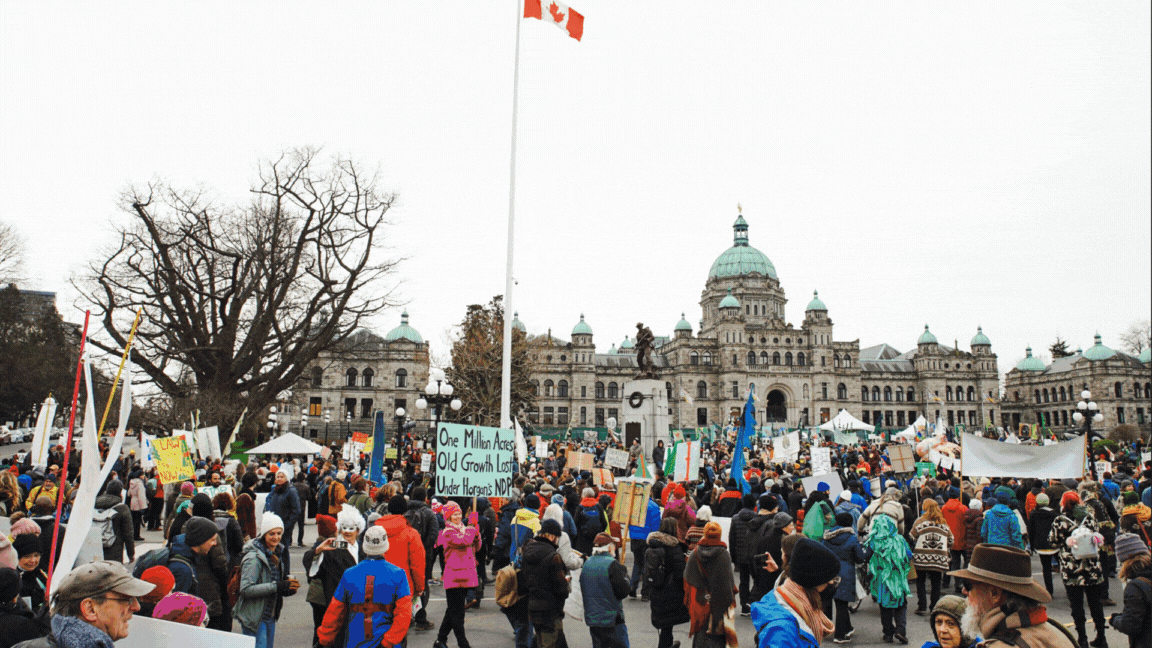 We heard from powerful speakers like: 
Janelle Lapointe, an Afro-Indigenous climate justice and Indigenous rights organizer from the Stellat'en First Nation
Spozem First Nation Chief James Hobart
Kwakwaka'wakw hereditary chief walas 'Namugwis David Knox
Environmentalist David Suzuki
They spoke of realigning our relationships with forest ecosystems while upholding Indigenous rights.
Moving performances by ANSWER2 Indigenous drum group, folk singer Sarah Osborne and rock legend Neil Young sent shivers down our spines — which had nothing to do with the freezing temperatures. They reminded us all how important it is that we continue this work, together. 
---
The latest from on the ground and in the woods
We chose the 100th-day anniversary of newly appointed BC Premier David Eby's term to rally and announce the United We Stand for Old Growth Declaration, which now has more than 225 signatory organizations — a strong force of support across sectors to preserve the remaining ancient forests.
Supporters like you made it possible to ally with incredible partners and dozens of volunteers to send a compelling message to the government: Keep your word and protect threatened old-growth forests in this province.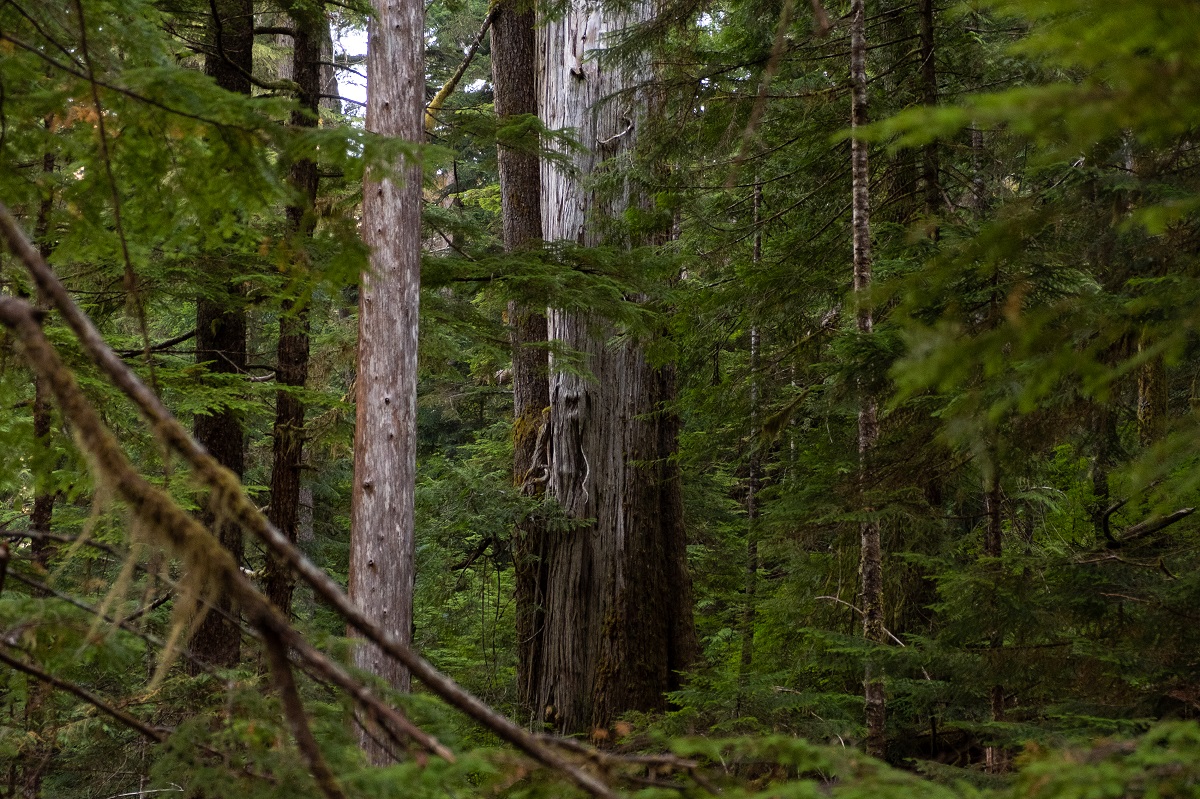 Just ten days before the rally, the BC government made a significant announcement on forest policy, including important investments in value-added forestry and long-term conservation financing, as well as crucial forest policy reforms. But that still wasn't enough to stop logging in the most at-risk ancient forests in the meantime. 
---
It's all thanks to you!
We aren't going to stop until the logging does. But we're thrilled to pause and celebrate this win with you.
Your overwhelming dedication to protect old-growth through action and generous donations to the Fund for Ancient Forests make success like this possible. And it's how we can continue to make this a priority in the coming months.
We have so much gratitude to all of you for your support and to the legion of organizers, volunteers and artists behind the United For Old Growth effort. Thank you.
Check out the coverage of the event and watch Neil Young for yourself (Neil is @1:25:40 in the video). If you're able to chip in, any amount will ensure this movement continues to grow.
With you backing us we will build off the momentum of the last few weeks and press forward until old-growth forests have permanent protection. Despite the chilly weather, our hearts are warm and our resolve to stand up for life-giving old-growth forests across the country has only strengthened.
Thank you for being a part of this movement.
Fancy meeting you here at the end of this article! Care to hang out together for a few more sentences?
The campaign you just read about is one of about 20 we're actively working on at any given time. And the person who wrote this article is the same campaigner who's asking you to take action, who's calling on our legislators to make changes and who's in the field to bring you photos, videos and stories documenting this issue.
Did you notice how we're a bit distinct, that we're not afraid to call out the industries or governments that threaten what's wild? Unlike other groups, we're almost 100 per cent* "people powered." Individuals like you who care give what they can, when they can. No corporate or government funding restricts our strategies, our actions or our voice. That's how we stay a lean, nimble and unequivocally relentless voice for wilderness, wildlife and the climate. That's why we'd love it if you'd consider joining us by making a monthly donation to the Wilderness Committee today.
LET'S MAKE A DIFFERENCE TOGETHER
We've already established you like to read to the end, so here's the fine print. It's 96 per cent of our funding which comes from individuals like you and me. About four per cent of our total funding comes from a few grants from foundations. Every gift — no matter the size — has an impact and powers our work for nature.