Caribou in Crisis
Tuesday, April 04, 2017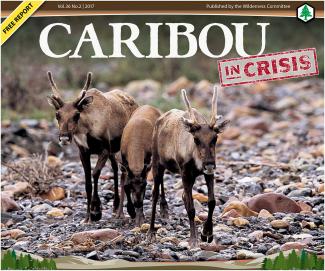 Download our latest educational report 
Our new report, Caribou in Crisis, explains what caribou need to survive in the boreal and what  must be done now to protect them.
Over thousands of years, caribou evolved to thrive in some of our harshest wilderness environments and their populations stretched from coast to coast to coast. But now their habitat is changing so quickly that caribou don't have time to adapt. Caribou living in boreal forests are facing tremendous risk: being forced into increasingly diminished and disturbed habitat.
Since boreal caribou are listed as a threatened species under Canada's Species At Risk Act (SARA), governments must act to protect caribou populations. In 2012, the federal government released a final strategy to care for caribou that laid out important work the provinces needed to do over the next five years.
Now that deadline is approaching and the provinces simply have not done what is needed.
Read this report and share it with your friends, family and colleagues.
We need your help again to ensure that governments across Canada take the necessary action to safeguard boreal caribou and their wild forest home.