Caribou are an iconic species, featured prominently on Canada's 25-cent coin. Boreal woodland caribou are a variety of caribou, related to the caribou living in the north. Boreal caribou live in forests, and travel much shorter distances every year, if at all.
Moving through boreal forests, woodland caribou are a sign of intact wilderness. Caribou are incredibly sensitive to disturbances like roads and clearings. Along with losing food and shelter, disturbances through the forest allow wolves to travel and hunt caribou much easier, which increases predation rate on caribou. Every bit of forest we permanently remove for industrial activities is a piece of forest that caribou can no longer call home and another kink in the system further altering predator and prey dynamics. 
But, the system isn't broken just yet, and we can turn this around for caribou. 
With the establishment of Canada's Species At Risk Act (SARA) in 2003, woodland caribou became a protected species under federal law.
In June 2006, after the Wilderness Committee collected more than 10,000 signatures from concerned Manitobans, the provincial government finally listed the woodland caribou under the Manitoba Endangered Species Act (MESA). This was tremendous news, and an important step for the protection of this iconic species, but the woodland caribou is not safe in the woods yet. Unless the habitat of these beautiful and elusive animals is protected, the high-risk herds of caribou will accelerate down their path to extinction.
Large logging corporations operating in caribou habitat on public land are putting forth risky and experimental plans for destroying caribou habitat, even though similar actions have proven detrimental in other provinces.
In the winter of 2007-2008, caribou numbers went down sharply in the area Tembec logs, after massive experimental harvests were conducted. The logging corporation says this is likely just a blip.
In the area Tolko logs, their expansion plans don't account for the existence of caribou. In areas that are already set aside from industrial activity to protect caribou, Tolko has decided to run destructive all-weather roads. Most caribou habitat in the area Tolko logs is already riddled with clearcuts and bisected by roads.
2017 marked the year when all provinces were legally required to submit caribou protection plans as required under the federal SARA. This deadline came and went, and most provinces didn't even flinch at the fact that they had blatantly dismissed orders from the federal government. The years keep coming and they don't stop coming, and critical habitat of caribou is still being forked over to logging and oil and gas companies to have their way with.
We say this stops here. The Wilderness Committee, along with allies from across Turtle Island have teamed up to stop the extinction of boreal caribou before it's too late. In 2018 the group of allies submitted a statement to Minister of Environment and Climate Change Catherine McKenna calling on her to fulfil her duties under SARA by issuing safety net order to protect all critical habitat that remains unprotected. It is time the federal government begin to take their own law seriously before they have the extinction of many beloved animals on their hands. 
Provincial action to protect boreal caribou has also been very slow coming. The Manitoba government, in particular, does not wish to release data about caribou populations. What Manitobans deserve, and the woodland caribou require, is a moratorium on all logging operations in or near caribou habitat until the Manitoba government presents a peer-reviewed management plan for each caribou range. Plans and experiments put forth by logging corporations – companies with vested interests in logging caribou habitat – have proven to be devastating to caribou, and will not be accepted by the concerned citizens of Manitoba.
 
In BC, in 2018 a leaked audit revealed that the oil and gas commission was allowing industrial activities to proceed regardless of the rules outlined in the boreal caribou implementation plan. The commission's responsibility to protect caribou has been compromised in favour of industrial interests at the expense of caribou. 
 
Support Us
Your much appreciated donation keeps this work going!
Volunteer
Get in on the action and make a difference!
Reports & Publications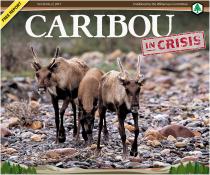 Download our latest educational report Our new report, Caribou in Crisis, explains what caribou need to survive in the boreal and what must be done now to protect them. Over thousands of years, caribou evolved to thrive in some of our harshest wilderness environments and their populations stretched...