Coal: BC's Dirty Secret
Monday, March 08, 2010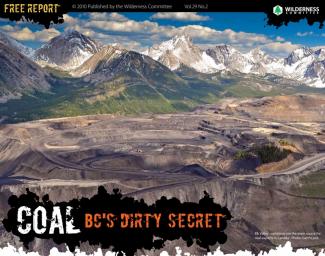 BC has a dirty secret: coal is the dirtiest fossil fuel of all and BC is North America's biggest coal exporter. What's worse, while our government touts its supposed 'green' credentials, it wants us to build more coal mines, rip up more wild places and ship out more climate-destroying coal.

British Columbia is home to some of the most extensive coal deposits in Canada, with over 20 billion tonnes of coal. New proposals for coal mines and transportation infrastructure to ship coal would seriously hurt BC's natural environment and contribute significantly to global warming. The proposed mines in BC would impact habitat for stone sheep, grizzly bears and mountain goats, as well as destroy the winter habitat of a critically threatened caribou herd. These mines threaten to pollute ground water,
and impact human health, important salmon streams and drinking water.

Read the full report...