When their provincial government proposed to lift long-standing restrictions on coal mining in the Rocky Mountains, Albertans were furious. Small-town mayors and country music stars are not the typical faces of environmental campaigns. But the broad coalition that came together successfully forced the premier to back down, though not before new leases could be granted.
What's ironic is that four new and expanded coal mines are proposed across the border in British Columbia, often thought of as an eco-paradise compared to neighbouring Alberta. Many of them are in the Elk Valley (Qukin ʔamaʔkis) — a region already pummeled and poisoned by mountaintop-removal coal mining. 
Toxic selenium leaches from coal mining waste into the Elk River, causing deformities and infertility in endangered cutthroat trout. Jet-black coal dust sometimes rains down on the town of Sparwood, blanketing people's homes and yards. For years, the Ktunaxa Nation has been working to hold mining companies like Teck accountable for the pollution of their territory (ʔamakʔis).
This region desperately needs a cumulative effects assessment and a moratorium on any new coal mining. Many more mines have been proposed across the border in Crowsnest Pass, between Banff and Jasper, and near Tumbler Ridge and Smithers. Why are all these coal mines being proposed if the world is rapidly moving away from coal power?
Nearly all the coal in western Canada is metallurgical or used for making steel. While demand for thermal coal used in power plants has peaked thanks to renewable energy, the world still wants more steel year after year. Thankfully, steelmakers can and are already using renewable hydrogen to produce the metal. While it is more expensive now, rising carbon prices and falling renewable energy costs mean the day the world stops buying Canada's coal is fast approaching. 
New coal mines won't last, but the pollution they release will. Canada is now reviewing all new mines at a federal level, but there are several in BC and Alberta that are already undergoing provincial environmental assessments. All these new coal mines should never see the light of day. Leave the mountains alone!
Support Us
Your much appreciated donation keeps this work going!
Volunteer
Get in on the action and make a difference!
Reports & Publications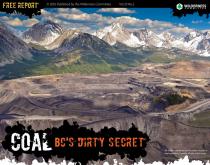 BC has a dirty secret: coal is the dirtiest fossil fuel of all and BC is North America's biggest coal exporter. What's worse, while our government touts its supposed 'green' credentials, it wants us to build more coal mines, rip up more wild places and ship out more climate-destroying coal. British...