Vancouver Island coal mine proposal back from the dead
Thursday, October 30, 2014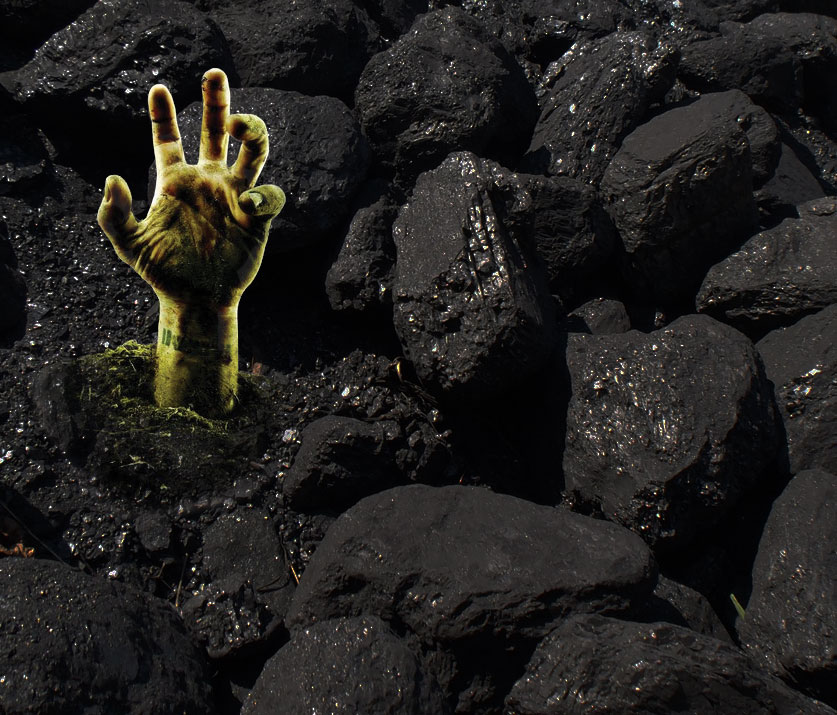 October 30, 2014
In early October, provincial environmental regulators received word that the application for the risky and controversial Raven Coal Mine could be re-submitted in the coming weeks. More than fifteen months after it was rejected by the BC Environmental Assessment Office (EAO), the proposal was returning, like a zombie back from the dead – just in time for Halloween.
When resubmitted, the mine application will enter a 30-day screening period to determine whether it contains all required information. This is as far as the project made it last spring; during the screening the EAO found the application was missing hundreds of pages of information and sent the proponent, Compliance Energy, back to the drawing board.
Since then, Compliance has done nothing to gain social licence or convince the public that high-impact, short-term industrial activity is the right course for the Island.
The Raven Coal Mine would extract around 30 million tonnes of coal and rock over 16 years from a site near Fanny Bay in the Comox Valley.
The project has been fiercely opposed by the general public, environmental groups, shellfish producers and other local businesses. All four municipal governments in the Comox Valley have opposed the mine, and the K'ómoks First Nation has expressed concern about the mine's impact on the riparian ecosystem and ongoing treaty negotiations.
The negative impacts of the proposed Raven Coal Mine would include the disruption of wildlife habitat, impacts to the watershed and riparian zones, a huge increase in heavy truck traffic (the coal would be carried on public highways 19 and 4 to the port of Port Alberni) and a significant increase to the Island's contribution to climate change – among many others.
Check out our infographic on the Top 10 Reasons to Oppose Raven Coal here.
In the coming weeks and months, the Wilderness Committee will be working with local groups and individuals to organize town hall meetings and other events, and we'll set up an online tool to help people participate in the public comment period.
It's 2014, not 1914, and the time of coal mining here is over. Together we've pushed this mine off the table before, and we can do it again.
Please stay tuned – we'll need your help in the coming months to bury this project for good and commit to a responsible and sustainable future on Vancouver Island!
For clean water and a healthy local economy,
Torrance Coste
Vancouver Island Campaigner