Defend BC's Wild Rivers
Wednesday, January 30, 2013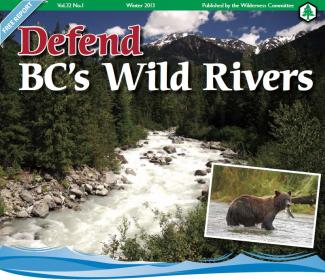 Pulling the plug on private power
Billy Goat, Kookipi, Big Silver, Kokish and Volcano – these interesting names are just a handful of the 800 wild streams and rivers that have been staked for private hydro power development across British Columbia over the last decade.
Triggered by the 2002 BC Energy Plan, which forbade BC Hydro from producing new sources of electricity, BC rivers have been snapped up by industry giants such as General Electric, Brookfield Asset Management and Innergex.
Read this paper to find out:
How we can protect our wild rivers and safeguard BC Hydro

What confidential documents revealed about environmental accidents at IPPs

How recent changes to federal environmental laws have put more of BC's rivers at risk

How a change in the definition of self-sufficiency could change the landscape for river diversion projects in BC
By becoming educated about IPPs, the impact on our wild rivers and the threat to BC Hydro, we can promote truly sustainable energy practices and make smart decisions through proper planning, increased democracy and robust environmental standards.
Gwen Barlee | Policy Director
Wilderness Committee