British Columbia is fortunate to have a mostly emissions-free electricity grid, giving the province a leg up in the fight against climate change. But hydropower megadams have had disastrous impacts for the communities and ecosystems who rely on the river valleys they destroy. In the modern era it is unconscionable that the provincial government is building energy projects from the last century.
Sadly, construction of the Site C dam will likely crowd out any major renewable energy projects over the short term. However, that gives us the opportunity to reflect and consult on what a healthy public utility should look like now that the province has passed legislation to implement the United Nations Declaration on the Rights of Indigenous Peoples.
In the past, independent power projects created windfall profits for multinational corporations at the expense of the financial health of BC Hydro. These sweetheart deals laid the groundwork for the privatization of our public utility. Thankfully, this practice has ended. 
Many First Nations rightfully have ambitions to produce clean electricity on their territories, and that's something the provincial government should support. But instead of foreign shareholders cashing in on this opportunity, BC Hydro should partner with Indigenous Nations. That way our electricity system — our biggest asset in the fight against climate change — can remain in public hands through joint ownership by Indigenous and provincial governments. 
All energy production has an environmental impact and not every site is appropriate for renewables. But there are enormous opportunities for wind, solar, geothermal, tidal and small hydro projects in BC. With the consent and participation of Indigenous communities, clean power can and must replace fossil fuels in our homes and vehicles. Of course energy efficiency, insulation and smart grids remain the best option to make sure there's enough electricity to go around.
 
Support Us
Your much appreciated donation keeps this work going!
Volunteer
Get in on the action and make a difference!
Reports & Publications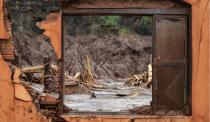 THIS PAPER EXPLORES THE MANY PARALLELS between the tailings dam spills at the Mount Polley mine in British Columbia (BC), Canada, and the Samarco mine in Mariana, Minas Gerais, Brazil. The Mount Polley disaster took place in August 2014, when the dam holding toxic waste from the copper and gold mine...