Defend BC's Wildlife
Thursday, June 02, 2016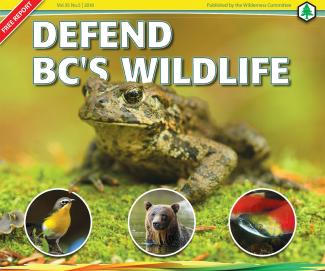 Download our latest educational report 
Defend BC's Wildlife education report outlines the dire need for an effective endangered species law in BC.
This report is all about understanding the risks to our wildlife and, most importantly, understanding the steps we can take to protect them.
It's time to admit that the laws currently in place don't cover the over 1,900 species at risk in BC. The BC Wildlife Act, derived from hunting regulations, applies to just four species at risk in BC, and the BC Forest and Range Practices Act is constrained from impacting more than one per cent of the timber harvesting land base
In this report you can find out:
How we reached a species-at-risk crisis in BC.

The number one threat to species in our province.

What threatened plants and animals need to rebound and thrive.

What people in Nakusp, BC are doing to protect a "world-famous wildlife migration" threatened by logging.
And it's time to push the provincial government for an endangered species law. 
If you would like additional copies of the report to distribute in your community, please contact papers@wildernesscommittee.org and let us know how many you require.
Join us as we advocate for BC's wildlife to be protected so that future generations can see how biodiverse and rich the species are in this province.