Times Up For The Tar Sands
Thursday, June 08, 2017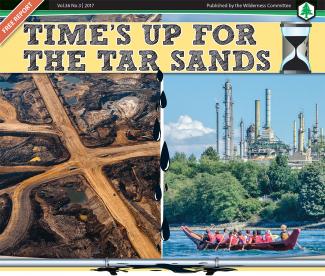 Times Up for the Tar Sands! education report explores the damning reality facing the fossil fuel industry – the economics, the alternatives, the resistance. It makes a clear argument for how fighting for a safe climate is incompatible with building any new pipelines or the tar sands mines they enable. 
Climate chaos is now impossible to ignore. 
Here at home we're seeing more floods, fires and storms. Around the world, rising temperatures are leading to wars and famines. We are in an urgent crisis and it's about time our leaders started acting like it. 
Our dirty oil has no future in a world that's moving on from fossil fuels. 
We can and must embrace that future. Despite all of the climate alarm bells and fleeing investors, government and industry seem determined to build these dinosaur projects and lock in decades of further reliance on fossil fuels. 
Currently, Prime Minister Trudeau has approved two new pipelines and cheered on a third. Thankfully, a powerful movement is rising up to stop this reckless scheme. 
Read the enclosed report and take action by writing the Prime Minister of Canada at
pm@pm.gc.ca
and ask him to reverse the pipeline approvals and reject all new pipelines. Remind him about his commitments to ending fossil fuel subsidies and respecting the right of Indigenous communities to withhold consent.
Together, we can take further action to stop tar sands expansion and hold our governments accountable for approving these reckless projects.