Vote Wild!
Wednesday, February 22, 2017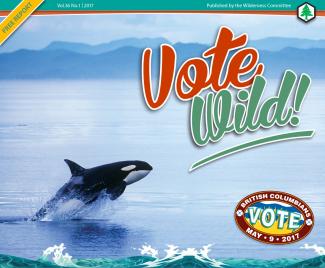 Download our latest educational report 
Vote Wild! education report outlines the pressing environmental issues in BC and how voters can make them high-priority in the lead-up to the BC election.
British Columbians are worried about an oil spill ruining BC's pristine coastline, rising power rates and the fate of BC's species at risk like killer whales and grizzly bears.
We know that isn't the BC you want to see.
May 9 is the perfect day to act. Government policies affect just about everything in our lives: the water we drink, the air we breathe, the taxes we pay, and the jobs in our communities. That's why we need to get out to vote for the environment.
Our latest educational report, Vote Wild!, lays out the important environmental issues facing BC and how you can help make them a priority in the lead-up to the election.
Read the enclosed report to understand:
How the Kinder Morgan pipeline puts the Salish Sea at risk of an oil spill.

Why Site C is a $9 billion gamble for BC taxpayers.

What's happening with logging corporations moving into places like the Walbran Valley.

How BC has no endangered species legislation to protect the 1,900 species at risk.
Now is the time to protect BC's wilderness and wildlife.