Want to help stop an oil spill?
Wednesday, June 13, 2012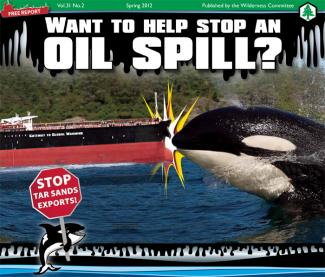 Will Canada's Pacific Coast Become The Tar Sands Shipping Port?
I remember playing on the beaches of Burrard Inlet in Vancouver as a child. I was in awe of the giant trees in Stanley Park and was delighted to see the playful birds and seals. Like many others, our oceans and rivers have all been special places to me. This is a big reason why for so many of us, the idea of converting the Pacific coast of Canada into a shipping port for dirty tar sands oil is such an ugly prospect.
Two years ago, as we all watched the BP Gulf coast oil spill in horror, the possibility of an oil spill on Canada's west coast really began to sink in. Giant tankers carrying tar sands crude oil are already passing through Vancouver Harbour on a regular basis, and through critical habitat for Orcas, salmon and migratory birds. Now, there are plans to drastically increase these oil exports. Can you imagine walking along the seawall, or along any beach in BC, and seeing birds and sea life covered in oil?
---
This report was originally published in Spring 2012, and has been re-published with additional material.