Wills and Estates
Provide for the wild in your will or estate plans and be remembered as a Wilderness Guardian, in your lifetime and beyond. 
Join today. Notify us. Get benefits.
Besides giving yourself the gift of peace of mind, you can take lasting action for the wild. Make an enduring gift today! Simply write or update your last will and testament to reflect your shared reverence for Canada's wild.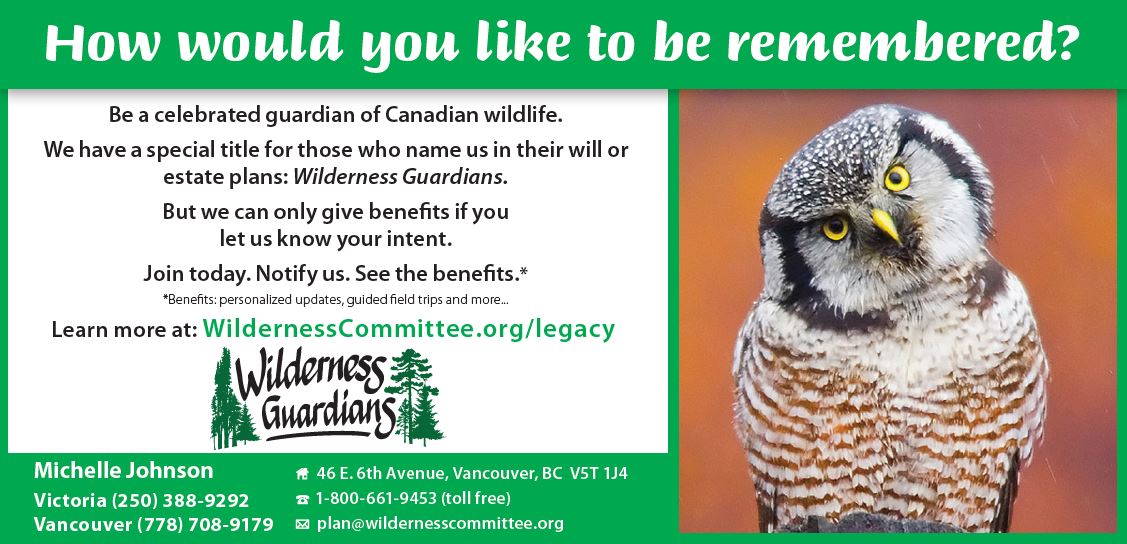 Legal Name: The Western Canada Wilderness Committee
Charitable Registration # 11929-3009-RR0001
Benefits for Wilderness Guardians
Free copy of our Canada's Wild Endangered Species and Spaces Calendar.
In person or online campaign updates – on the campaign of your choice.
Wilderness Witness Tours – receive notifications on upcoming day trips to the wilderness.
Quarterly News Round-up – a selection of Wilderness Committee in the news.
All these benefits are yours – only if you notify us. Simply click here to indicate your intent and preferences. You'll be glad you did! See how other donors like you have committed to the wild.
Who is a Wilderness Guardian?
A Wilderness Guardian is passionate about protecting wilderness and wildlife and wants to ensure that passion and protection lives on generations from now.
Why not ask our staff? Our Donor Relations Manager, Michelle Johnson, is a Trailblazer and a proud Wilderness Guardian. She has left the better part of her estate to the Wilderness Committee and a few other charities who will carry on the activism she has dedicated her life to doing. Read her testimonial here.
You too can be a champion for Canada's wild. Will you join her in being remembered as a Wilderness Guardian? 
Don't take just our word for it, read long-time supporter Janice Palmer's story here.
If you decide to join us, a few things to note:
Our legal name is the Western Canada Wilderness Committee (important to avoid confusion about your intention).
Your gift, your choice! If you have specifics in mind or a type of gift not listed here, please get in touch. We will work to meet your wishes and ensure that the Wilderness Committee is the right choice.
How will you use my funds? All funding goes to the area of greatest need, whether that's a trip to spotted owl or caribou habitat to document logging or mining activities that will harm endangered species, or to keep the lights on at the office, both have equal importance. Any funding we receive in excess is put into a contingency fund monitored by our Board of Directors.