People like you have been on the ground with us for more than 40 years! That's the definition of people powered wilderness preservation. Together, we're working tirelessly to protect life-giving biological diversity in Canada through strategic research, community mobilizing and grassroots public education in the following areas:
Featured Campaign Updates
Reports & Publications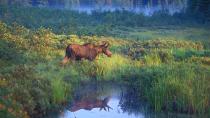 LET'S MAKE THIS ELECTION ABOUT THE ENVIRONMENT Provincial policy is absolutely crucial to protecting the nature that sustains us. From regulating resource extraction and industrial activity to planning for increasing population without sacrificing clean water, land and air — provincial government...