16,000+ call on B.C. to ban fracking
Wednesday, March 06, 2019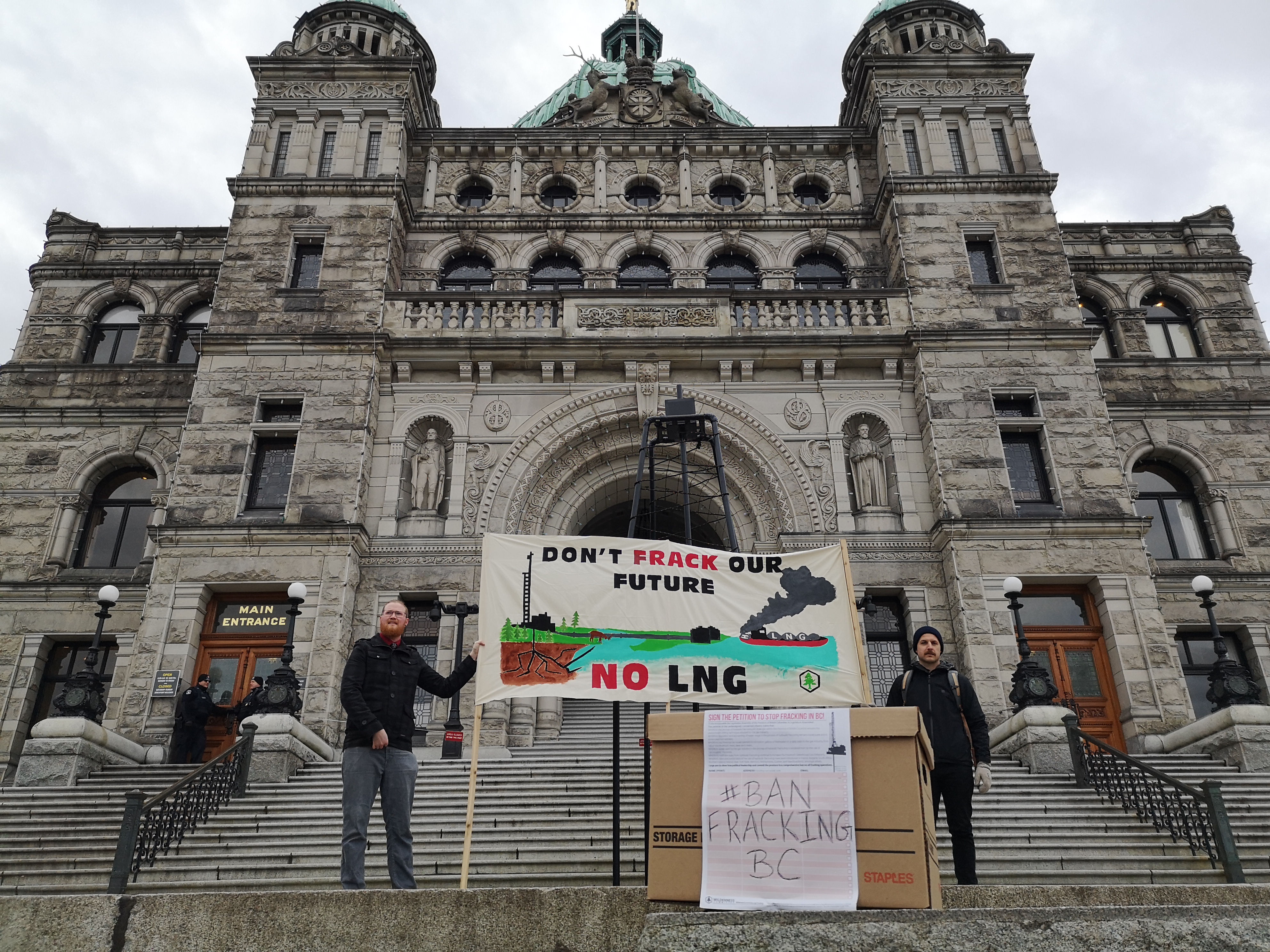 VICTORIA - Wilderness Committee delivered more than 16,000 signatures to the provincial legislature this morning in support of a ban on fracking in British Columbia, with hopes to preempt the 9,000 new frack wells needed for two liquified natural gas (LNG) projects on the coast.
"It's time for B.C. to end the destructive process of fracking," said Climate Campaigner Peter McCartney. "Drilling for gas in the northeast is stressing local water supplies and spewing highly potent methane into the atmosphere."
In 2015, the gas industry used over 30,000 Olympic-sized swimming pools worth of water for its fracking operations. Research also shows 85 per cent of active wells leak methane gas at rates more than 2.5 times what industry and government report. 
"Communities here in B.C. and across the world are already reeling from the impacts of climate change," said McCartney. "But fracking continues to poison vast amounts of precious water and accelerate the climate crisis even as renewable energy gets cheaper every day."
Fracking also poses worrying risks to public health. Preliminary studies in the Peace region suggest significant exposure to benzene, a known carcinogen, in pregnant women — and particularly pregnant Indigenous women — who live near fracking sites. 
"Even doctors are calling for a halt to fracking," said McCartney. "There are clearly gaps in the research but what we have seen so far is alarming and cause enough to act."
Both Woodfibre LNG and LNG Canada are starting work on their projects, which would lead to a massive expansion in fracking operations. 
Squamish's My Sea to Sky, who works locally to oppose Woodfibre LNG, helped push the petition well past its initial goal. 
"We're putting these LNG producers on notice," said McCartney. "Mark my words — it is only a matter of time until we see a ban on fracking in British Columbia, and time is short."
–30–
For more information, please contact:
Peter McCartney | Climate Campaigner
778-239-1935, peter@wildernesscommittee.org