BC's Dirty 30: The people holding back provincial climate action
Tuesday, October 18, 2022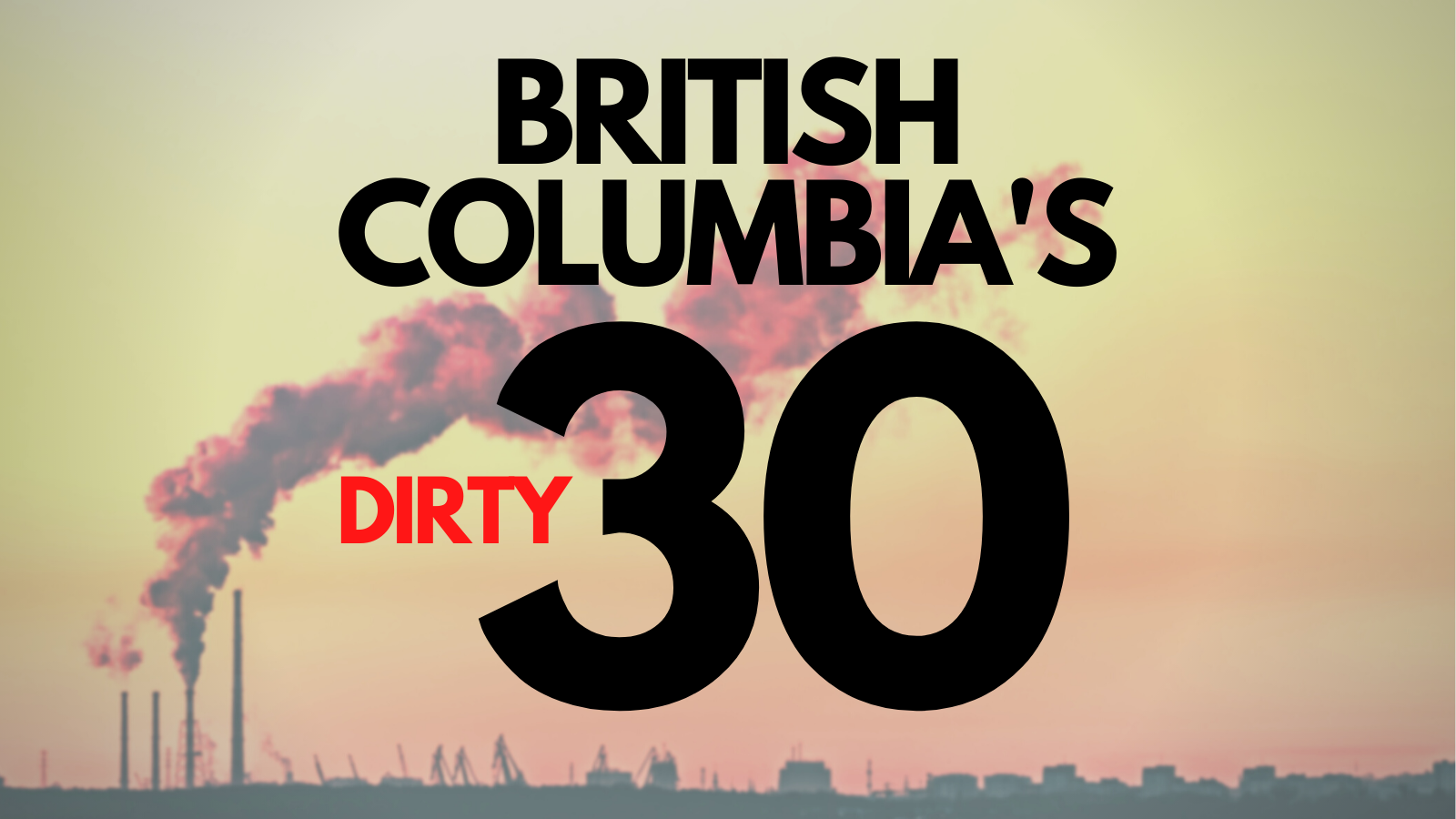 Who's to blame for BC's climate inaction?
Introducing Wilderness Committee's picks for BC's Dirty 30 the people working in the interests of big polluters and holding back provincial climate action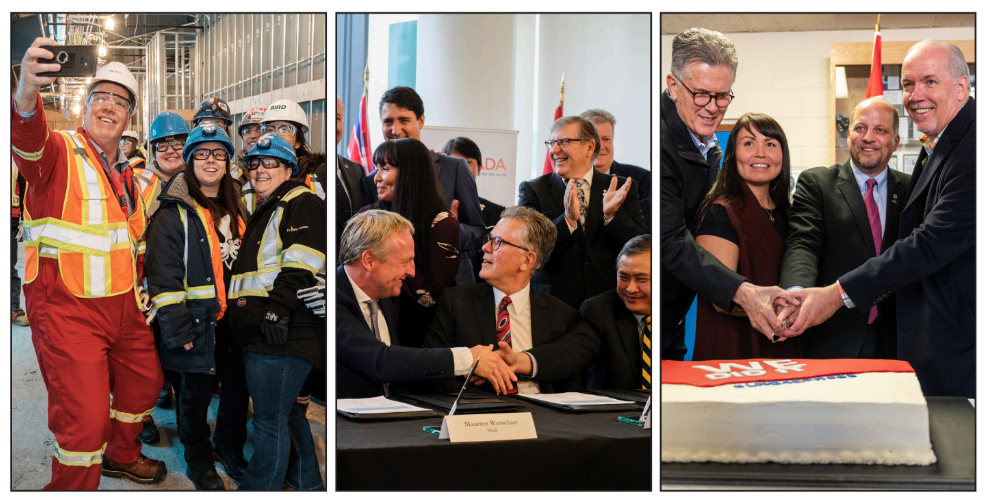 While the provincial government talks a big game about fighting climate change, the truth is B.C. has missed every climate target it's ever promised and is on track to do so again in 2025.1 That's largely because LNG (Liquefied Natural Gas) Canada, the most polluting project ever approved by the provincial government, would come online that year unless the new premier, David Eby, can stop it. After deadly wildfires, heat waves, storms and floods in recent years, British Columbians are prepared to do their part. But a handful of well-connected players are preventing the province from going "all-in" on eliminating carbon pollution. In the Wilderness Committee's opinion, with thorough research and speaking from experience, we pulled together this list of the people we believe are most responsible.
1. Geoff Meggs, Chief of Staff, Premier's Office
Meggs operates behind the scenes in the Premier's Office but he is well known in the environmental movement as exercising a tight grip on power both within the BC NDP and across the provincial government. In the five years since he was appointed the most powerful unelected figure in the province, the party has aligned itself with business interests and extractive industries, as identified throughout this document. Knowing the power he wields as chief of staff and how the provincial government has responded to criticism under his direction, he is perhaps most responsible for B.C.'s inability to act decisively on climate change. With Meggs on his way out, it remains to be seen whether other members of this list will enjoy less influence.
2. Fazil Mihlar, Deputy Minister, Energy, Mines and Low-Carbon Innovation

During his time at the Fraser Institute, B.C.'s infamous right-wing think tank, Mihlar proposed the province scrap its Environmental Assessment Act. Mihlar joined the Ministry of Natural Gas Development in 2013, championing a liquefied natural gas industry in B.C. Now the head of energy and mines, he remains devoted to increasing the province's fossil fuel exports and branding its gas as "clean" even though it worsens the climate emergency.
3. Geoff Morrison, Manager of BC Operations, Canadian Association of Petroleum Producers

Main man for fossil fuels in B.C., Morrison appears relentless in lobbying public servants and elected representatives to make sure climate policies don't disadvantage the province's most polluting industry — oil and gas. Often meeting with government officials multiple times a week, he lobbied successfully to maintain fossil fuel subsidies in the province's gas royalty system. Morrison opposes climate policies that would discourage investment in fossil fuels, instead proposing electrification of and methane reductions from fracking gas. Coincidentally or not, that's exactly what the provincial government favours in its CleanBC climate plan.
4. Steve Corbin, Executive Project Director, LNG Canada

On October 1, 2018, Premier John Horgan and Prime Minister  Justin Trudeau triumphantly announced the consortium behind LNG Canada had given the most polluting project in the province a green light. Weeks later, Corbin bragged to the Vancouver Board of Trade about how he secured more than six billion dollars in subsidies from the provincial and federal governments. He cited "genuine collaboration" with politicians and public servants as making it possible to build a facility that will now make it impossible for B.C. to meet its climate commitments. 
5. Chris Montgomery, VP Policy, Explorers and Producers Association of Canada

Montgomery is a frequent lobbyist for the industry association representing fracking companies in northeastern B.C. He met regularly with the provincial government over the timeline of the province's royalty review, which determined the price his members would pay for access to gas. During his time at the Canadian Association of Petroleum Producers, he was the architect of the "astroturf" Energy Citizens group that feeds pro-industry misinformation about oil and gas to its online audience.
6. Tyler Bryant, Public Policy Manager, FortisBC

B.C.'s largest gas utility is scrambling to justify its existence in a world moving off fossil fuels, and Bryant is showing them the way. He has managed to position the fossil fuel company at the centre of B.C.'s climate plan with lofty promises about converting its supply to biogas made from agricultural or forestry waste. Of course, the only problem is FortisBC could never find enough biogas to replace what it gets from fracking. Bryant's scheme only serves to promote false solutions and delay real action. Whenever FortisBC is challenged on its plans to build new liquefied natural gas export facilities or connect ten thousand new homes a year to fracked gas, it waves spurious claims about biogas as a shield.
7. Moe Sihota, Lobbyist, Woodfibre LNG
Former president of the BC NDP from 2009 to 2013, Sihota was friendly with the business community and prioritized fundraising. Now a lobbyist for Woodfibre LNG in Squamish, he still frequently represents the BC NDP as a commentator including on issues related to gas development. Sihota regularly meets with public servants from the Ministry of Energy, Mines and Low-Carbon Innovation as he looks to funnel more fossil fuel subsidies to his client.
8. John Brewer, Gold Commander, Community Industry Resource Group

Head of a secretive unit of the RCMP that was formed in 2017 to monitor and remove resistance to the Coastal GasLink and Trans Mountain pipelines. Brewer's squad is composed of mounties from other units who volunteer to join and police Indigenous and environmental protests. His unit's activities include surveillance of activists and working closely with private security of oil and gas companies who are often former RCMP. The Community Resource Group has been accused of violence in its arrests of Indigenous peoples, environmentalists and members of the media to clear the way for fossil fuel infrastructure projects. 
9. Premier John Horgan

During his five years as premier, Horgan saw heated battles on environmental issues like old-growth logging and the Coastal GasLink pipeline as emissions continue to rise. He approved the Site C dam, a $16 billion gift to the gas industry. He promised then failed to use "every tool in the toolbox" to stop the Trans Mountain pipeline, which is fast becoming a $25 billion gift to the oil companies. When he took office in 2017, he wanted to do what his opponents couldn't and bring a liquefied natural gas plant to B.C., and offered more than $5 billion in tax breaks and subsidies to do it. Finally, his CleanBC climate plan is full of money for oil and gas companies who are perfectly capable of paying to clean up their own pollution.
10. Skye McConnell, Manager of Policy and Advocacy, Shell Canada

McConnell is a lobbyist for Shell, the company behind LNG Canada: the single most polluting project in B.C. She's lobbied for fossil fuel subsidies including the creation of the Centre for Innovation and Clean Energy, which uses public money to subsidize Shell's research and development. Yet she sits on the Climate Solutions Council, which exists to provide advice to the provincial government about reducing emissions (and works by consensus). During her tenure on the advisory body, it has never recommended limiting gas production or exports despite the fact the industry accounts for a fifth of B.C.'s carbon pollution. It's not hard to see why, with LNG's biggest proponent at the table.
11. Kevin Falcon, Leader, BC Liberal Party

B.C. Liberal leader Falcon's power to influence climate policy is limited to heckling from the opposition bench. However, his tenure as minister of transportation in the late 2000s is still impacting the province's carbon emissions. Falcon was the champion of the Pacific Gateway Plan to expand urban highways across the Lower Mainland. His decision to build the 10-lane Port Mann Bridge was a major factor in the development of car-dependent communities south of the Fraser River. Now cities like Surrey, Abbotsford, Langley and Chilliwack have an uphill battle ahead of them to reinvent themselves as walkable, transit-oriented, non-polluting communities. It's doubtful Falcon would champion bold climate action as premier.
12. Mark Fitzgerald, VP International Assets, Petronas

Until recently, Fitzgerald was the Canadian face of the global fracking company that would feed gas through the Coastal GasLink pipeline to LNG Canada in Kitimat. He played a significant role in marketing Canadian gas as less environmentally destructive, despite renewable energy like wind and solar being a much preferable alternative. Earlier this year, he was promoted to Petronas' parent company in Malaysia, where he will likely continue to greenwash his company's massive expansion of fracking operations in northeastern B.C.
13. Prime Minister Justin Trudeau, purchased the Trans Mountain pipeline
When Trudeau announced his government reapproved the Trans Mountain pipeline in 2019, he claimed all the profits would be used to further the transition away from fossil fuels.

This was a transparent attempt to cover the fact this self-proclaimed climate champion was spending taxpayer money to ensure tar sands companies would get their access to the coast. Now, the price tag has risen to $25 billion, the project is years delayed, and the Parliamentary Budget Office confirms Canadians will lose money on the whole polluting endeavour when we should have just invested in clean energy in the first place.

 
14. Bruce Ralston, Minister of Energy, Mines and Low Carbon Innovation

Former president of the BC NDP, Ralston regularly meets with fracking companies and liquefied natural gas proponents and spoke at the industry's convention earlier this year. Yet he's convinced his government can expand fossil fuel exports even as he works to implement its CleanBC climate plan. It's hard to say whether Ralston is fighting for gas interests at the cabinet table or simply choosing the path of least resistance when it comes to the industry. Either way he's holding B.C. back from reining in gas extraction, its most polluting — and powerful — industry.
15. Jason Kearns, Director of Natural Gas Liquids and LNG, Enbridge

 After losing the battle over the Northern Gateway oil pipeline, Enbridge is back in B.C., this time attempting to revive long-stalled liquefied natural gas projects. Kearns recently announced a $1.5 billion investment in Woodfibre LNG and is looking at bringing back its Westcoast Connector pipeline to feed Ksi Lisims LNG on the north coast. Both projects would export fracked gas from northeastern B.C. unless they are stopped.
16. Stewart Muir, Director, Resource Works

In the media and online, Muir runs defence for the province's most polluting companies under the guise of a grassroots group promoting "responsible resource development." He knows the I <3 Oil & Gas brand would never fly in B.C., so instead, he makes misleading claims liquefied natural gas can reduce emissions. Although Muir says he takes climate change seriously, he spends much of his time attacking environmentalists or promoting fossil fuel interests. ResourceWorks was created by the Business Council of B.C.
17. Diane Nicholls, VP Sustainability for North America, Drax

As chief forester of B.C. from 2016 to 2022, Nicholls oversaw clearcutting of some of the province's last ancient forests and best carbon sinks. Now she's moved on to Drax, the largest pellet company in Europe, where she helps greenwash the process of grinding up B.C.'s forests to burn for electricity. To clarify, there's nothing green about shipping wood pellets halfway around the world to burn them for power.
18. Robin Silvester, President, Port of Vancouver

During Silvester's 13 years at the helm of the Vancouver Fraser Port Authority, it has committed to becoming the "most sustainable port in the world." Unfortunately, that's a low bar, especially when his Pacific Gateway program drove a 40 per cent growth in trade with all the polluting new highway and marine traffic to go along with it. Silvester now promotes LNG as a marine shipping fuel, even though upstream methane leaks make it just as polluting as bunker oil. So while endlessly celebrating small measures to reduce emissions, the Port of Vancouver under Silvester's tenure has been a key force driving them upwards.  
19. Calvin Helin, President, INDsight Advisers

On his company's website, Helin offers Canadian and international clients in the mining, energy and forestry sectors his services to engage with Indigenous communities. INDsight promises "all problems, issues, and barriers can be overcome" when it comes to negotiating with First Nations for resource extraction projects. As president of Eagle Spirit Energy, he has championed a gas pipeline corridor across northern B.C. in some of the same communities that vehemently opposed Enbridge's Northern Gateway pipeline. Helin helps secure agreements that companies can promote despite Indigenous opposition to their projects from community members or traditional governments. 
20. Byng Giraud, President, Sedgwick Strategies

Giraud is best known for his six-year tenure as CEO of Woodfibre LNG in Squamish, where he helped secure an environmental certificate despite overwhelming community opposition. During the same period, he was investigated by Elections BC for donating almost $50,000 to the B.C. Liberals on behalf of the company. Since moving on from Woodfibre, Giraud has led a new LNG proposal to export Canadian gas from just across the border in Alaska to avoid B.C.'s climate goals and regulatory oversight. His consulting firm is dedicated to "de-risk"-ing industrial development projects and pushing permits through while overcoming local concerns. 
21. Michael Gardiner, President, Strategies 360 Canada

Once executive director of the BC NDP and John Horgan's leadership campaign manager, Gardiner now runs the Canadian wing of a multinational lobbying firm. Among his clients in B.C. are Pembina Pipeline, which co-owns Cedar LNG with the Haisla Nation, and Tourmaline, the third largest fracking company in the province. He took on the latter two weeks after John Horgan became premier. Gardiner also advises the B.C. Natural Resources forum, a conference hosted by the fracking, logging and mining industries for companies and politicians.
22. Bill Tieleman, West Star Communications

Whether championing resource extraction or opposing proportional representation, lobbyist Bill Tieleman has spent decades working against climate action. He has publicly denied links between carbon pollution and climate disasters, and waged war against greener factions of the BC NDP. Twice he has worked to defeat proportional representation that could have resulted in more climate-friendly minority governments like the GreeNDP alliance he opposed in 2017. Now he spends his time opposing dense, transit-oriented neighbourhoods in Vancouver, which encourages more car-dependent urban sprawl.
23. Marcella Munro, Head of Government and Regulatory Affairs, Teck Resources

This former strategist for Vision Vancouver and the Alberta NDP has relocated to Toronto, but still regularly meets with her B.C. government officials in her new role as chief lobbyist for the province's largest coal mining company. Munro's past lobbying clients included gas companies Chevron and Spectra Energy (now owned by Enbridge), and Reconciliation Inc., a consortium of Indigenous groups proposing to purchase an equity stake in the Trans Mountain pipeline.
24. Ellis Ross, BC Liberal MLA, Skeena

Former chief councillor of the Haisla Nation, Ross played a major role in bringing liquefied natural gas proposals to Kitimat. He was elected as a B.C. Liberal in 2017, and is the party's energy critic. As recently as 2019, Ross dabbled in climate denial, suggesting "even the scientists and experts can't agree what's really going on." At the height of protests against the Coastal GasLink pipeline led by hereditary leadership of the Wet'suwet'en Nation, Ross made regular media appearances to undermine the legitimacy of Indigenous pipeline opponents and earlier this year demanded the government endorse B.C.'s LNG as "clean and ethical". It is neither. 
25. Greg D'Avignon, CEO, Business Council of BC

In 2018, D'Avignon signed an MOU with the provincial government to develop an "industrial strategy that transitions B.C. into a low-carbon economy leader." But his organization, which represents the largest gas companies in B.C., claims that includes a massive expansion of fossil fuel production and exports. D'Avignon has long pushed for more oil and gas pipelines, fossil fuel subsidies and argued for loopholes in the province's carbon tax. He's played a big role in the push to brand B.C.'s resources as low-carbon despite the damage old-growth logging and fracking for gas do to the climate.
26. Yemi Adefulu, Deputy Exec Director, BC Centre for Innovation and Clean Energy

After 15 years at Shell, Adefulu moved to B.C. to join a new research centre funded by the company with provincial and federal governments. Responsible for the commercialization of questionable schemes like carbon capture and storage, blue hydrogen and renewable or synthetic fuels, he plays a central role in B.C.'s problematic framing of the climate crisis as a problem of "innovation." In reality, the technology to eliminate carbon pollution by replacing fossil fuels already exists. Adefulu and his group promote risky new techno-fixes as a way to avoid the urgent necessity of limiting fossil fuel production and justify continued fracking.
27. Kurt Niquidet, Vice President, Council of Forest Industries

 In his role at the Council of Forest Industries (COFI), Niquidet represents the largest and most controversial logging companies in the province. COFI puts nearly as much effort into marketing wood products as climate-friendly as it does working against efforts to protect old-growth forests and their ability to draw down carbon dioxide from the atmosphere. Niquidet also sits on the Climate Solutions Council, which advises the provincial government on climate policy. This may be why B.C.'s climate plan includes such a heavy emphasis on cutting down forests for wood construction and forest-derived biogas.
28. Fern Stockman, Executive Project Director, Oil, Gas and Industrials, BC Environmental Assessment Office

Stockman is in charge of regulatory reviews for every oil and gas project in the province. During her tenure, we've never seen the BCEAO reject a permit for liquefied natural gas facilities. Her final report for the Tilbury LNG terminal in Delta considered the massive emissions from fracking for its gas "outside of project scope." If the office wants its assessments to have any credibility, it needs to consider the full climate impacts of fossil fuel exports.
29. Justice Shelley Fitzpatrick, sentencing judge for Trans Mountain injunction

Despite having already sentenced multiple Indigenous activists to jail time for upholding the Tsleil-Waututh Nation's opposition to the Trans Mountain pipeline, Fitzpatrick revealed she did not even know where the community is located. Fitzpatrick has repeatedly discounted the rights and obligations of Indigenous people to practice their culture and protect their lands and waters, instead treating them as any other protestor. She delivers maximum sentences targeting Indigenous leaders of movements against polluting pipelines. 
30. Bob Brash, Executive Director, Truck Loggers Association

 The Truck Loggers Association has long been the voice of old-school, anti-environmentalist sentiment. Brash took up the mantle in 2020 just as a heated battle over old-growth logging in the last unprotected, intact watershed on southern Vancouver Island took shape. He's called activists trying to save some of the most vital carbon stores in Canada "ecoterrorists" and "special interest groups." 
Conclusion
British Columbians need to know how powerful extractive industries are working against the province's climate commitments. Our purpose with this research is not to question the character of these individuals, but to show how big polluters work to undermine action. It is also to call out the people proposing false solutions or empty promises as only serving to delay the tough decisions necessary to avert catastrophe. 
Premier David Eby and his government will need courage to shut the door on the legions of lobbyists working for the fossil fuel industry — many of whom have close ties with the New Democratic Party. He will need to examine the relationship between the justice system and resource companies, and ensure the public service and advisory councils aren't working at cross purposes. Eby must see through efforts to greenwash polluting industries or fake grassroots support for fossil fuels. There will not be meaningful climate action in British Columbia until polluters are no longer welcome in the halls of power