Clayoquot First Nations vs Imperial Metals mining rally
Thursday, May 12, 2011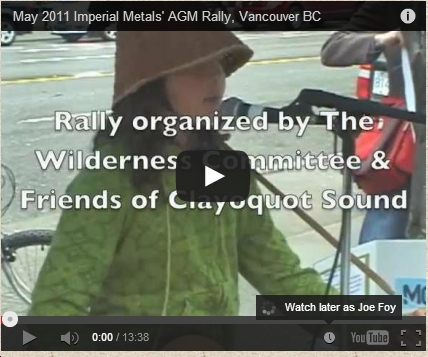 Clayoquot Sound First Nations speak out against 2 potential mines in their traditional territory (& UNESCO Bioshpere Reserve!) at a rally held outside Imperial Metals Corp.'s AGM in Vancouver on May 12, 2011 organized by The Wilderness Committee & Friends of Clayoquot Sound.
The proposed gold mine would be in the Tranquil Valley very near Meares Island. The proposed copper mine on Catface Mountain (Chitapii) would be a mountain top removal, open pit style mine!
11 Yr. old Kalilah Rampanen also performs her new song More than Copper to Me. Speakers: Tsimka Martin, Tla-o-qui-aht First Nation Member; Joe James Rampanen, Ahousaht First Nation Member.