Don't let them do to Keyhole Falls what they did to the Ashlu River
Wednesday, December 22, 2010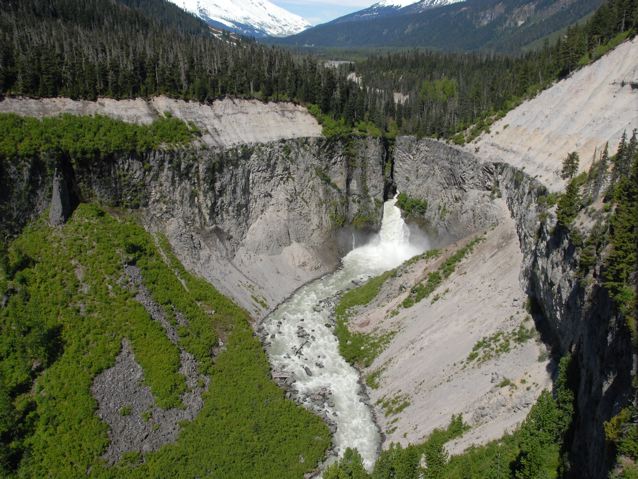 Less than a decade ago the Ashlu River was a wonderful example of the rugged beauty of British Columbia.
Its narrow canyon walls and its raging white waters were loved by conservationists and recreationists alike. Today the Ashlu is better known as the site of one of the first and biggest fights for our wild rivers. Sadly that was a fight we did not win and so the Ashlu has been industrialized and its once wild waters now flow through a pipe.
Just north of Pemberton there is another natural wonder under threat by the same corporations that privatized the Ashlu. Ledcor, the corporation that built the Ashlu power project, and Innergex, the current owners of the project, are joint partners in the Upper Lillooet Hydro Project. Which if it is allowed to go forward will seriously impact the iconic Keyhole Falls. This cluster of projects -- that would not only have a drastic impact on the falls but would also industrialize two tributaries of the Lillooet River - is currently going through an Environmental Assessment Public Comment period.
This is an important opportunity for citizens who are concerned about the gold rush that has been triggered by our provincial government subsidization of private power projects to voice their opposition to this shortsighted policy. By writing a comment on this project you will be letting regulators and our elected officials know that the environmental costs of these kinds of projects are too high to bare for the low quality power that they generate.
Some concerns you might want to include in your comment:
The project will require a 72 km transmission line, which will leave a clear cut scar up the whole length of the Lillooet Valley for the transmission corridor. This is particularly worrisome because this transmission line could be used to develop other tributaries of the Lillooet by private power projects.
The diversion reach, the area of the river that will be dewatered, comes very near to the boundaries of the Upper Lillooet Provincial Park.
More than a half dozen Species at Risk, including spotted owl, peregrine falcon and cutthroat trout, will be affected by this project, as will important habitat for other species, including grizzlies, wolverines and mountain goats.
Click here to visit the BC Environmental Assessment website and submit your comment. Comments must be submitted before January 9th.
They have ruined the Ashlu River. Let's not let them ruin Keyhole Falls. Together we can stop this project!
Sven Biggs | Outreach Director
Wilderness Committee