Environmentalists protest fracking ahead of province-backed corporate pro-LNG conference
Tuesday, May 10, 2022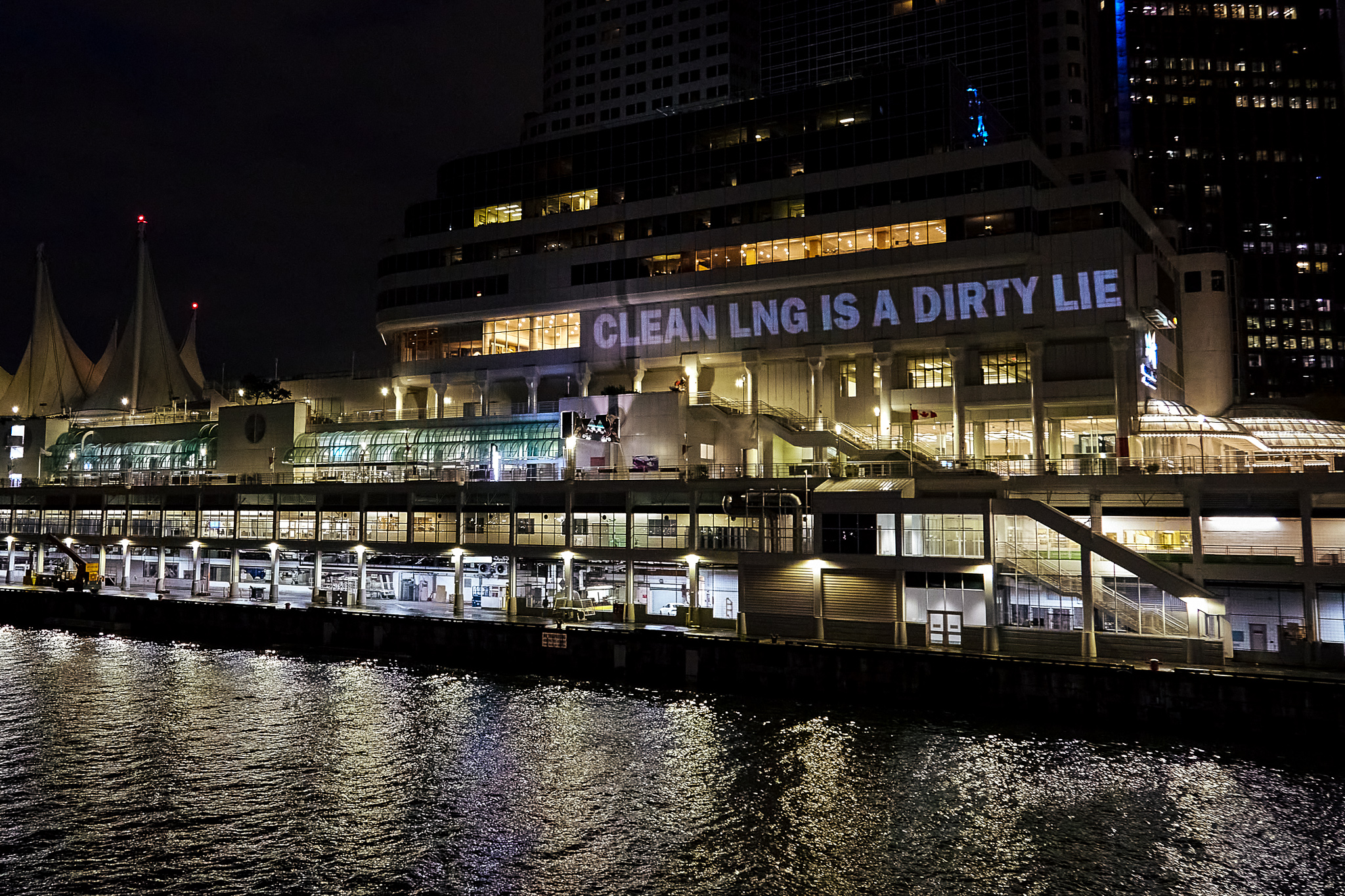 At Vancouver's Canada Place, climate groups project message denouncing companies and the government for promoting gas as a false climate solution
UNCEDED xʷməθkʷəy̓əm, Sḵwx̱wú7mesh AND səlilwətaɬ TERRITORIES (VANCOUVER, BC) — Early this morning, climate advocates lit up Canada Place with a projected message for the British Columbia government and its corporate partners: stop promoting fracking in the province. 
Environmentalists used a high-power projector to share their message ahead of a speech from Honourable Bruce Ralston, B.C.'s minister of energy today. This action kicked off the beginning of the Canada Gas & LNG Exhibition in Vancouver, Canada's largest conference for fracking and liquefied natural gas (LNG) companies, which falsely promote gas as a way to reduce carbon emissions.
"These are some of the province's most polluting companies meeting to greenwash an industry that already creates a fifth of B.C.'s carbon emissions and only plans to grow," said Peter McCartney, Wilderness Committee Climate Campaigner. "We're out here this morning to shine some light on the fact their gas comes from fracking and will only delay our necessary transition off fossil fuels."
LNG is extracted using fracking, an industry that is currently responsible for most of B.C.'s methane emissions. Methane is a powerful greenhouse gas that is 86 times more toxic for the atmosphere than CO2 over its lifetime, and has been chronically under-reported in B.C. Yet, the fracking industry receives the single largest oil and gas subsidy from the B.C. government. Climate disasters like the record heat dome and atmospheric rivers have cost hundreds of lives and billions of dollars in the last year in British Columbia. Scientists say these events are being made worse by the extraction and combustion of fossil fuels, including the methane gas produced in the province's northeast.
"People in BC are concerned about water pollution, and the climate. Fracking hurts both and should have no place in BC's energy future," said Kiki Wood, Senior Oil and Gas Campaign for Stand.earth. "It's time for BC to not only put an end to subsidies to fracking and LNG companies, but an end to fracking altogether. And then we need a plan to phase out and clean up the existing infrastructure."
Wilderness Committee, Stand.earth and Dogwood, three major environmental groups in the province, are calling on the government to end fracking and develop a plan to support affected workers and communities.
"Energy Minister Bruce Ralston is peddling myths about clean LNG," said Alexandra Woodsworth, Campaigns Manager for Dogwood. "In reality, pumping more super-polluting methane gas out of the ground will prevent B.C. from meeting its climate targets and condemn all of us to more deadly extreme weather. As more and more British Columbians experience these effects first-hand, pressure will only grow on the province to stop courting oil and gas companies, and start protecting its residents instead."
Media contacts: 
Peter McCartney, Climate Campaigner, Wilderness Committee
778-239-1935, peter@wildernesscommittee.org
Alexandra Woodsworth, Campaigns Manager, Dogwood
778-316-5558, alexandra@dogwoodbc.ca 
Ziona Eyob, Media Director - Canada, Stand.earth
604-757-7279, canadamedia@stand.earth  
 
---
TAKE ACTION: Add your voice to end fracking in BC
Fancy meeting you here at the end of this article! Care to hang out together for a few more sentences?
The campaign you just read about is one of about 20 we're actively working on at any given time. And the person who wrote this article is the same campaigner who's asking you to take action, who's calling on our legislators to make changes and who's in the field to bring you photos, videos and stories documenting this issue.
Did you notice how we're a bit distinct, that we're not afraid to call out the industries or governments that threaten what's wild? Unlike other groups, we're almost 100 per cent* "people powered." Individuals like you who care give what they can, when they can. No corporate or government funding restricts our strategies, our actions or our voice. That's how we stay a lean, nimble and unequivocally relentless voice for wilderness, wildlife and the climate. That's why we'd love it if you'd consider joining us by making a monthly donation to the Wilderness Committee today.
LET'S MAKE A DIFFERENCE TOGETHER
We've already established you like to read to the end, so here's the fine print. It's 96 per cent of our funding which comes from individuals like you and me. About four per cent of our total funding comes from a few grants from foundations. Every gift — no matter the size — has an impact and powers our work for nature.