Fracking Campaign FAQ
Tuesday, October 25, 2022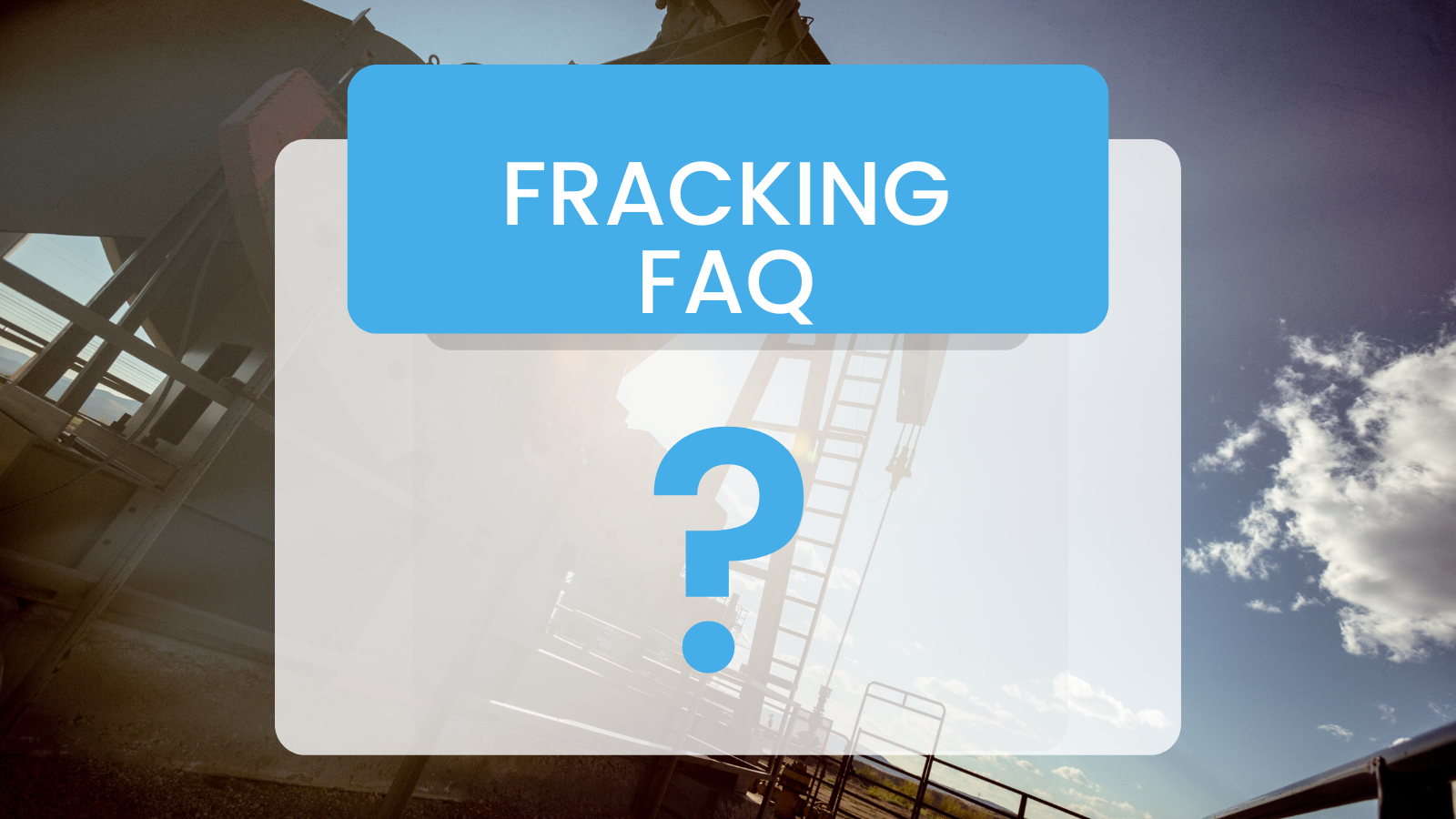 Learn about fracking in BC
Fracking for gas in northeast BC is the province's most polluting industry, yet few British Columbians even know it's going on. When people find out BC's gas industry is fueling the climate disasters we've seen across the province in recent years, they understand it needs to come to an end. But folks have questions — and we're here to answer them. Read on to learn more about fracking and you'll be ready to invite your friends and neighbours to join the movement to end it.
How does fracking make climate disasters worse?
Fracking for gas releases climate pollution into the atmosphere. Methane, the main ingredient of natural gas, traps much more heat than carbon dioxide over its short lifetime. So it warms the world very fast. About ¼ of global warming we're experiencing is due to methane and the majority of it comes from drilling for oil and gas. That means fracking is responsible for a significant portion of the worsening droughts, storms, heat waves and wildfires we've seen in recent years. Scientists tell us these climate disasters will keep getting worse until we stop burning fossil fuels.
Where is there fracking in British Columbia?
All of BC's shale gas basins are in the northeast corner of the province, under Treaty 8 territory near the Peace River. There are already more than 18,000 gas wells in the region and fracking companies have destroyed an area five times the size of Alberta's tar sands mines. In Blueberry River First Nation's territory, 75% of the land is within 250 metres of an industrial disturbance.
How am I supposed to heat my home without gas? 
BC has a remarkably clean electricity grid. Many British Columbians already heat their homes with electricity, although modern technology is far more efficient than the baseboard heaters you might be familiar with. Most of the province's domestic gas consumption is for space and water heating, and those can easily be replaced with a heat pump. Heat pumps use a condenser to extract ambient heat from outside the home. They work even in very cold conditions, and they also double as air conditioners during summer heat waves. These appliances are extremely efficient because they are not creating heat — just moving it. Finally, if you're afraid to give up your gas stove, wait until you cook with an induction burner powered by magnets. You'll wonder why it took so long to get fossil fuels out of your home!
What effects does fracking have on water?
We've all seen the videos of people lighting their tap water on fire. It is possible for gas to move from wells into aquifers, but in BC the bigger problem is how much water the gas industry uses. Every year, fracking companies divert more than half a million water trucks worth from local rivers and lakes. It's then mixed with a toxic cocktail of chemicals and pumped underground, where it's removed from the water cycle forever.
What's the connection between fracking and LNG?
Fracking produces the gas that LNG companies propose to liquefy and export. Without LNG terminals, gas production in BC would decline as domestic use decreases. But it would double if the five proposals on the west coast are built. 
Don't European countries need BC's LNG to replace Russian gas?
Europe is largely replacing Russian gas with renewable energy, and by the time any LNG facilities come online they will be even further down that road. In its 2022 World Energy Outlook report, the International Energy Agency forecasts global gas demand will peak this decade, largely thanks to the disruptions caused by the war in Ukraine. BC's LNG would not even be possible to export to Europe and is more likely bound for Asia. But high prices because of the conflict are driving Asian countries to embrace renewables even faster.
How does the CleanBC climate plan allow for this expansion of gas?
Provincial leaders often refer to CleanBC when asked about fracking and LNG. They claim a few LNG terminals "fit" within their climate plan and the targets they've set for the oil and gas sector solve the problem of a growing gas industry. But the reality is the government is not going to meet its commitment for 2025 — largely thanks to LNG Canada coming on that year. It's clear that modelling action is not the same as taking it. BC has missed every target it's ever set so the existence of a target for industry without the policies in place to ensure it is met is not justification for allowing new gas exports.
Don't we need gas as a transition fuel to renewable energy?
We have all the technology necessary to provide enough clean energy for every possible use. Most of it is economically viable and alternatives for the few applications that aren't — like making steel or marine shipping — are rapidly coming online anyway thanks to policy support. Wind and solar are already cheaper than gas. Building new fossil fuel infrastructure, even if it replaces coal or diesel fuel, only delays the transition to renewables. Global gas production needs to decline 3% per year to limit global warming to 1.5°C.
What if LNG plants switch from fracked gas to renewable natural gas in the future?
There is nowhere near enough organic waste in BC to supply an LNG plant with renewable natural gas. It is simply not feasible and the existence of biomethane does not justify the construction or expansion of new LNG facilities. Hydrogen has a much lower freezing point than methane gas and cannot be substituted for or mixed with LNG. 
 
Fancy meeting you here at the end of this article! Care to hang out together for a few more sentences?
The campaign you just read about is one of about 20 we're actively working on at any given time. And the person who wrote this article is the same campaigner who's asking you to take action, who's calling on our legislators to make changes and who's in the field to bring you photos, videos and stories documenting this issue.
Did you notice how we're a bit distinct, that we're not afraid to call out the industries or governments that threaten what's wild? Unlike other groups, we're almost 100 per cent* "people powered." Individuals like you who care give what they can, when they can. No corporate or government funding restricts our strategies, our actions or our voice. That's how we stay a lean, nimble and unequivocally relentless voice for wilderness, wildlife and the climate. That's why we'd love it if you'd consider joining us by making a monthly donation to the Wilderness Committee today.
LET'S MAKE A DIFFERENCE TOGETHER
We've already established you like to read to the end, so here's the fine print. It's 96 per cent of our funding which comes from individuals like you and me. About four per cent of our total funding comes from a few grants from foundations. Every gift — no matter the size — has an impact and powers our work for nature.