Fracking opponents protest planned Tilbury LNG expansion on the Fraser River
Friday, July 30, 2021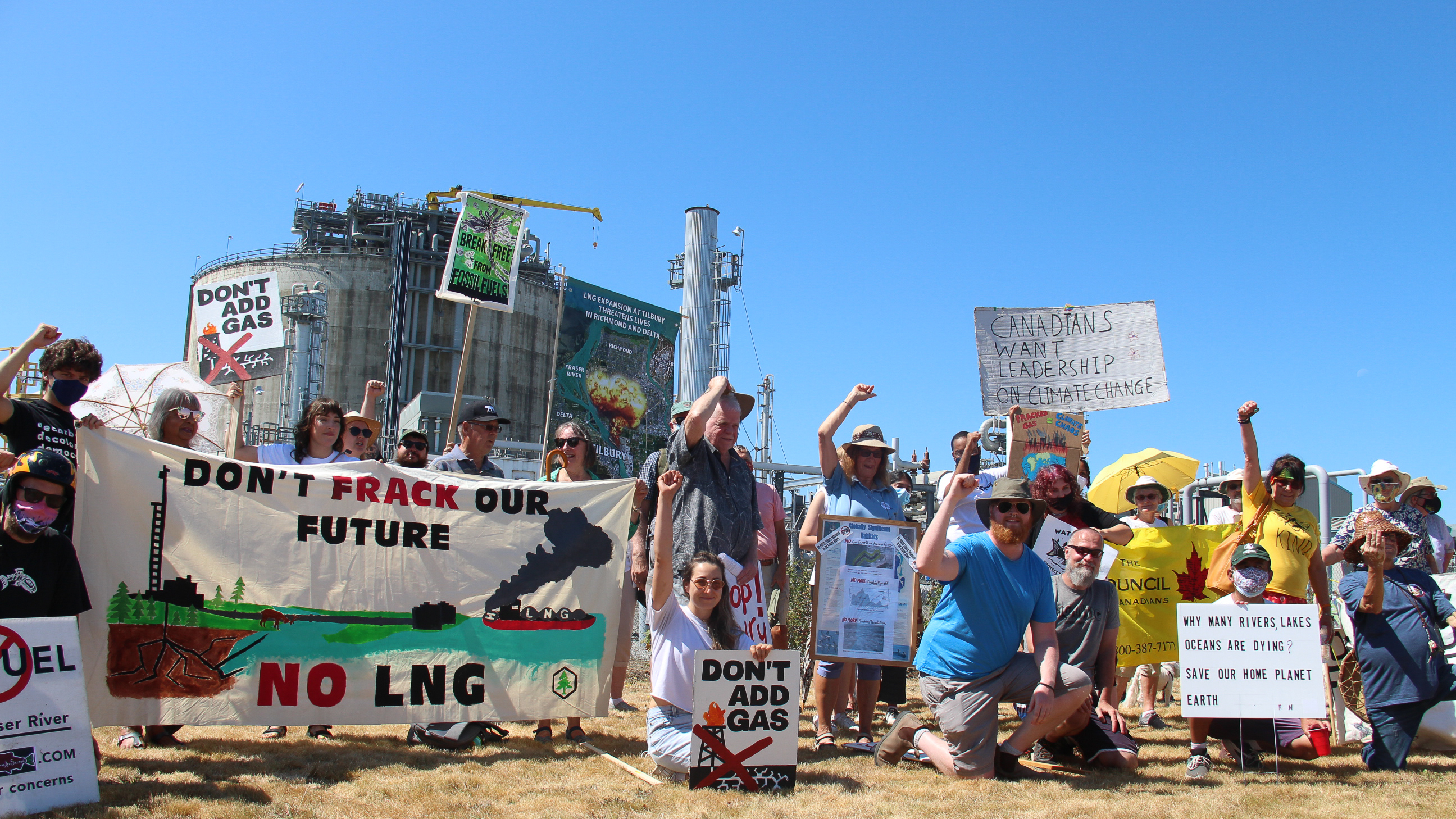 DELTA / TSAWWASSEN, KATZIE, STÓ:LŌ, KWANTLEN, MUSQUEAM AND STZ'UMINUS TERRITORIES — The Wilderness Committee held a protest outside Tilbury LNG in Delta Friday to oppose expanding the facility as part of a global day of action against fracking.
"In 2021, as British Columbians are dying in record temperatures and fleeing catastrophic wildfires, it's unconscionable to build new fossil fuel infrastructure," said Climate Campaigner Peter McCartney. "Tilbury LNG and the fracking for gas to fill it would create as much carbon pollution as all of Vancouver — it must be stopped."
FortisBC has applied to expand its storage facility on Tilbury Island last year to allow it to produce more LNG, including for export. Once the company files a detailed project description, expected in August, B.C.'s Environmental Assessment Office will determine if it can proceed with a review.
"We're asking Minister of Environment and Climate Change George Heyman to personally reject FortisBC's application to expand its Tilbury LNG plant because of its enormous climate impacts," said McCartney. "B.C. still doesn't have a plan to meet even its inadequate emissions targets, so we cannot even consider adding more pollution to the problem."
Tilbury LNG and the nearly 2,000 fracking wells it would require over the next 30 years would produce as much carbon pollution as the entire city of Vancouver. Gas has drawn more global scrutiny in recent years due to leaks of methane, a highly potent greenhouse gas, and its incompatibility with the goal of limiting global warming to safe levels. Friday's protest joined 20 other demonstrations in 14 countries as part of Shale Must Fall, a global day of action against fracking and LNG. 
"From Japan to Argentina to Namibia to Norway, people worldwide are demanding an end to fracking and no new LNG plants because the sooner we all stop burning fossil fuels, the better," said McCartney. "It's time for the B.C. government to abandon LNG and start working to eliminate carbon pollution instead of creating more."
 
–30–
For more information, please contact:
Peter McCartney, Climate Campaigner
778-239-1935, peter@wildernesscommittee.org