How close are you to the Kinder Morgan pipeline?
Thursday, August 29, 2013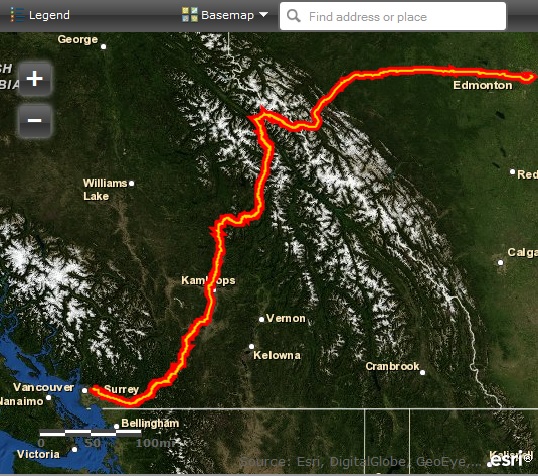 September 2013
This fall, Kinder Morgan is busy preparing to file their formal application with the National Energy Board regarding the proposed Trans Mountain pipeline. Here at the Wilderness Committee we're continuing the fight to stop this dangerous proposal, and we've been working on a project of our own: a brand new interactive map of the Kinder Morgan pipeline route.
The new map shows both the existing Trans Mountain Pipeline and the entire route of the proposed new pipeline. Previously, the company had only released vague route maps with little detail about where the pipeline would be situated in relation to communities. Details of the complete route were finally revealed to the public this summer.
The cool interactive platform on our map allows you to zoom in nice and close using satellite images, so you can see exactly where the proposed pipeline would be in relation to neighbourhoods, schools, parks, rivers, watersheds, highways – even your own home! It also lets you see the exact route of the existing Trans Mountain pipeline, which has been plagued with a series of leaks and oil spills over the past few years.
Check out the interactive map below, or click "View Larger Map" below map to open the map in the ArcGIS online viewer. You can toggle the legend or change the basemap imagery with the buttons across the top. To pan around, you can just click on the map and drag with your mouse.
ArcGIS Online Map of Kinder Morgan Trans Mountain Pipeline  Project
Legend:
YELLOW = existing Trans Mountain pipeline
RED = proposed new Trans Mountain pipeline
This new map is a powerful tool that we can use to help inform our opposition as we continue to speak out about Kinder Morgan's plans. It will allow us to gain some new perspective on the specific areas under threat, and about the more localized impacts that the pipeline could have on our communities, our salmon-bearing streams and our beautiful coastline.
Please help us spread the word by sharing this new map with your friends, family and colleagues – the more people know about the Kinder Morgan proposal, the more we can do to ensure that it never gets built!