Kokish River needs your letter NOW!
Wednesday, January 04, 2012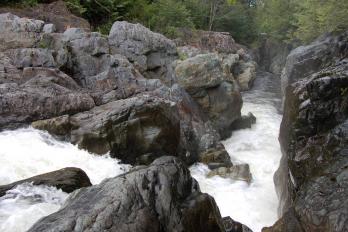 The Kokish is a wild river that is on northern Vancouver Island, near Port McNeil.
This 10-kilometre long whitewater river is home to a rare population of wild summer-run steelhead, which are seagoing rainbow trout that migrate to the ocean and return to their river as salmon-sized adults several years later. In fact, the entire length of the Kokish River is important rearing, spawning and migration habitat for summer-run steelhead, other trout, char and salmon.
Due to past habitat destruction and over-fishing only three streams on the east coast of Vancouver Island still have reasonably healthy runs of wild summer-run steelhead.
But now the BC government has just approved a private hydro-power project that would divert much of the Kokish River into a pipe three metres in diameter and nine kilometres long.
We've seen these kind of fish-killing projects proposed before – in the Upper Pitt River, Bute Inlet and Glacier/Howser Creeks. But those projects were eventually halted, thanks to widespread public opposition. Shockingly, Victoria has just approved the Kokish project – even though this has to be one of the worst private hydro projects we've seen when it comes to impacting fish habitat.
The past month has seen a great deal of media coverage of this controversial project (see this piece in the Victoria Times Colonist, for example).
Before the Kokish can be put into a pipe, however, there needs to be approval from the federal Department of Fisheries and Oceans (DFO).
That's why I am asking you to write a letter to the DFO to demand that they stand up for wild fish like salmon and steelhead and refuse to approve the Kokish River private hydro-power project.
There is still hope for the wild Kokish River! Write your letter NOW. Thanks!
For the Wild,
Joe Foy | National Campaign Director
Wilderness Committee