Let's give Algonquin Park the gift of protection
Saturday, May 27, 2023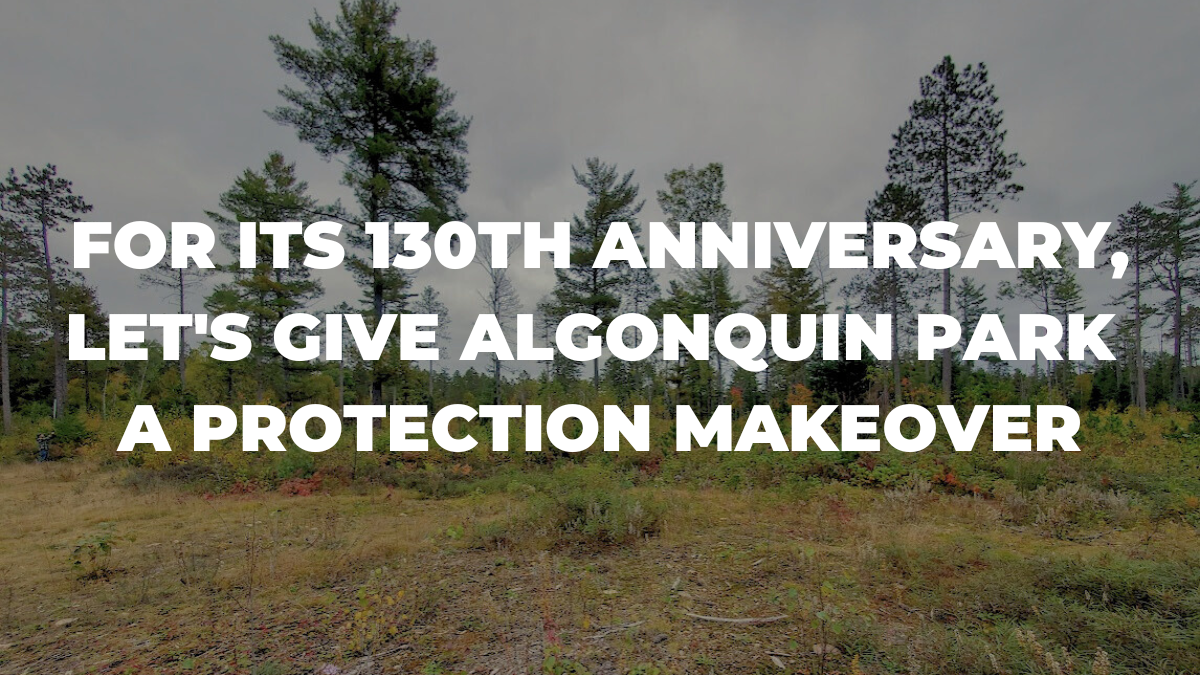 Celebrating Algonquin Park's 130th anniversary
On May 27, we will be celebrating the 130th anniversary of the establishment of Algonquin Park, Ontario's oldest provincial park and the first in Canada. It's a momentous occasion that calls for reflection on the park's history and an urgent plea for its future.
However, despite its rich heritage, Algonquin Park remains trapped in its logging past. While other parks in the province have long banned industrial activities to prioritize nature conservation, two-thirds of Algonquin is still open to logging, gravel mining, and road construction. This situation needs to change, and on its 130th anniversary, we have the perfect opportunity to demand action from the Ontario government.
Protecting Ancient Trees and Biodiversity
Imagine a transformed Algonquin Park, where the lush forests and vibrant wildlife are safeguarded for generations to come. This park has so much potential to become a beacon of ecological health and a sanctuary for countless species. But we cannot achieve this vision while logging and other destructive practices persist.
Our Algonquin Old Growth Project has made a startling discovery — trees over 400 years old still exist in remote, unprotected areas of the park. These ancient giants play a vital role in carbon storage and provide a haven for diverse ecosystems. Yet, shockingly, they are still at risk of being logged as they fall within the 10-year logging plans. It's time we take immediate action to protect these invaluable treasures and secure Algonquin's vitality.
An Outdated Plan in Need of Review
Another pressing issue is that the park's management plan, meant to be updated every 20 years, is now over 25 years old and long overdue for review. This outdated plan fails to reflect our evolving understanding of conservation and the urgent need to protect our natural heritage. We must demand that the Ontario government seizes this once-in-a-generation opportunity to create a new plan that prioritizes the protection of Algonquin Park and puts an end to logging.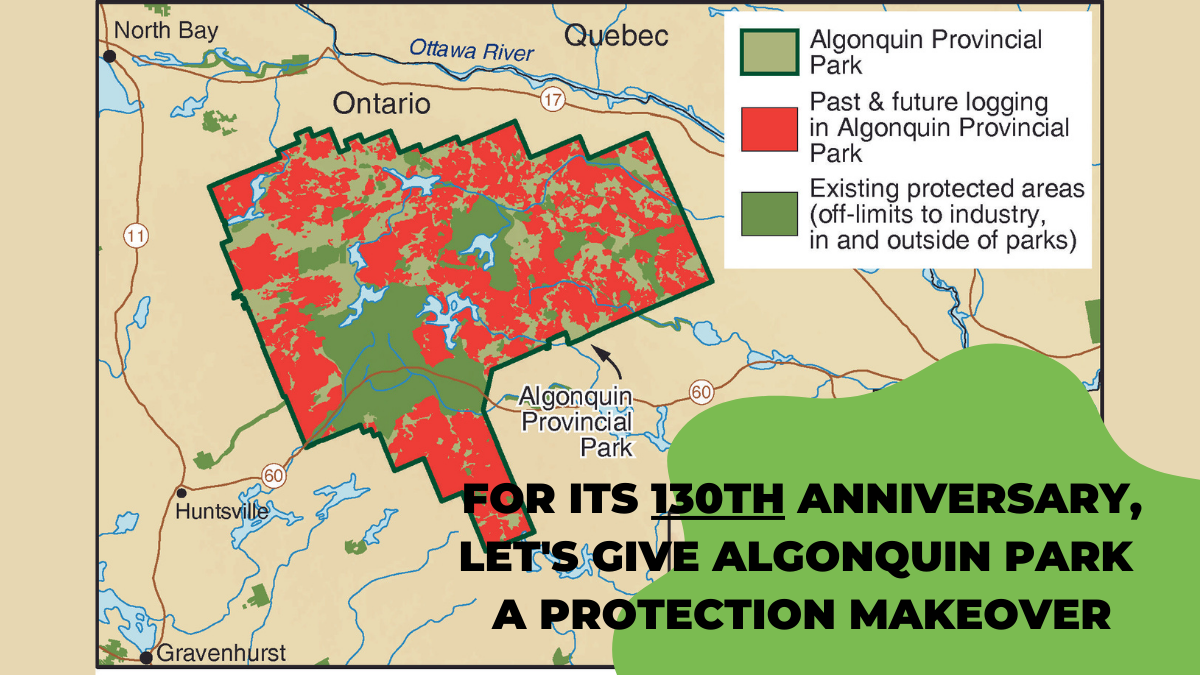 Taking Action for Algonquin Park's Future
Now is the time to unite our voices and make a difference. Join me in telling the Ontario government that Algonquin Park deserves a protection makeover for its 130th anniversary. By signing our letter, you'll be sending a powerful message that biodiversity, carbon storage, and the preservation of our natural heritage matter to all of us.
Add your voice to the cause
With your support, as a monthly donor, we can become an unstoppable force for change. Your contribution will fuel our efforts to protect wilderness, wildlife, and our planet. Together, we can make a lasting impact.
Join us in celebrating Algonquin Park's 130th anniversary by giving it the gift of protection it deserves. Help us make a difference by donating today. Your support will empower us to fight for the protection of Algonquin Park and other wilderness areas. Together, we can create a brighter future for our planet.