More cons than pros for proposed LNG expansion near Richmond, says action group
Saturday, June 20, 2020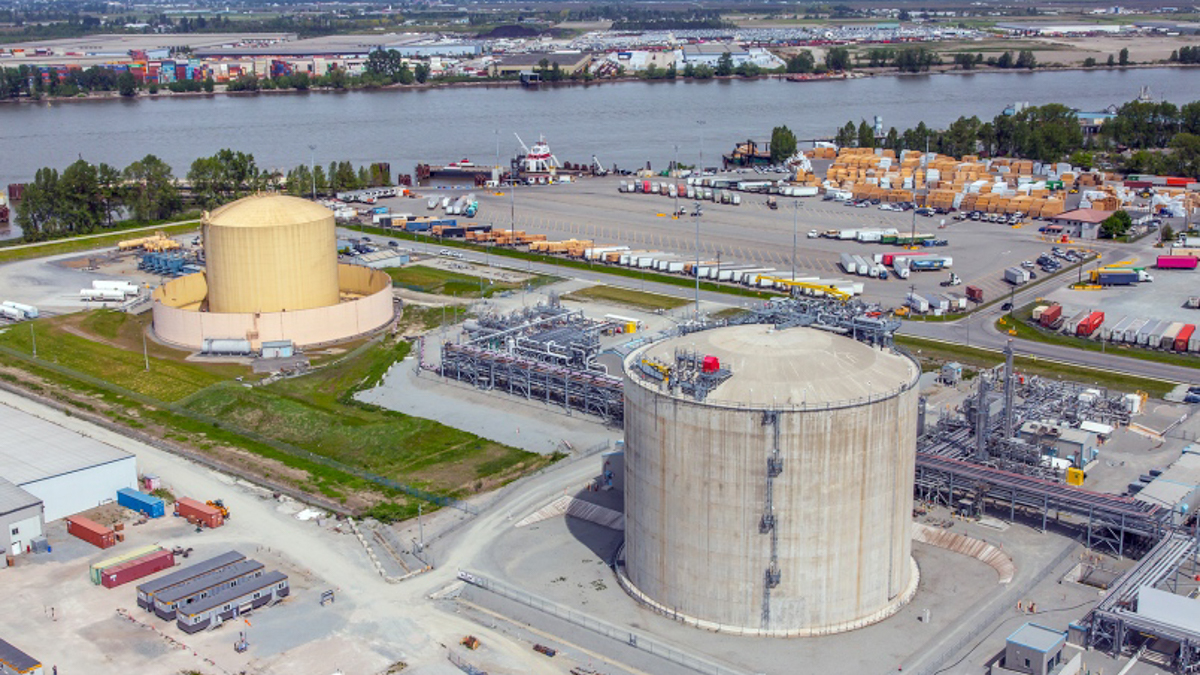 The proposed liquefied natural gas (LNG) expansion on Tilbury Island is raising alarm for a local action group, which says the project has more cons than pros.
FortisBC is planning to expand its existing LNG plant on Tilbury Island in Delta, upstream from the Massey Tunnel and opposite a jet-fuel terminal in Richmond, on the south arm of the Fraser River.
The location of the expansion, according to Friends of Tilbury member Eoin Finn, is less than ideal. The group, recently formed in opposition to the expansion, is holding a virtual open house June 24, to raise awareness about the planned facility and concerns about the project.
Any vessels heading up, or down the Fraser to open ocean, would need pass by the highly-populated areas of Richmond and Delta, Finn said.  
"So we're asking for trouble by locating a plant that's going to be producing 5 million tonnes of LNG a year, opposite a jet-fuel terminal. If anything goes wrong between those two, we have a major conflagration going on in Richmond-Delta, and that's not good."
Proposed LNG plant on Tilbury Island in the Fraser River has returned from the dead. FortisBC wants to expand an existing storage facility there to produce 5 MT of LNG/year to fuel ships & for export.

Will you write in and ask them to reject Tilbury LNG?https://t.co/j7svo1vtVy

— Wilderness Committee (@wildernews) June 18, 2020
FortisBC submitted its initial project description to B.C.'s environmental assessment office earlier this year, and the second of two virtual public engagements on the expansion will take place June 23.
The $3-billion project consists of an expansion of up to 162,000 cubic metres for LNG storage, and up to 11,000 tonnes per day of LNG production.
In addition, FortisBC's partner, California-based WesPac Midstream, is planning to build a marine jetty next to the LNG expansion, to export FortisBC's product.
But the expansion would be a poor deal for B.C., according to Finn, who is a former partner of global accounting-consulting firm KPMG.
Due to a global glut of LNG, and a drop in prices in Asia and Europe, the plant would be producing LNG for $400 per tonne, and selling it for $200 per tonne, said Finn, adding that the facility is "based on the hope that the market will recover," and demand and prices will go up.
"Most of my professional career, I got to look at a lot of business cases for a lot of companies, public and private, and this one, well, it stinks," he said.
But because FortisBC is a regulated utility in B.C., they are able to pass on their costs to customers, he added.
"So the consumer has an added interest in this project."
All of FortisBC's LNG tanks are located above ground, which, given that the area is located in an earthquake zone, is "not good," said Finn, who has spent the last six years researching the LNG industry.
In comparison, he said, most LNG tanks in Japan are buried in the ground, meaning that if anything "cracks and breaks (in an earthquake), the LNG can't go anywhere."
"Whereas on Tilbury, (the tanks) are all over-ground, they're very tall, and Richmond-Delta is the highest area for potential liquefaction in a significant seismic event," said Finn.
Tilbury Island is also located under the Pacific Flyway, a major north-south flyway for migratory birds, while the Fraser is an important river for salmon – which Indigenous communities, such as Tsawwassen First Nation, fish.
The plant's flare, which can be several metres high – and is a result of burning impurities off the gas – could be a threat to the birds, said Finn.
In New Brunswick, thousands of songbirds died after they flew into or near a 10-to-15 metre gas flare during a period of fog and low cloud in 2013. The company, Canaport LNG, was sentenced to a total penalty of $750,000 under Canada's Migratory Birds Convention and Species at Risk acts.
And while there are some pros to the expansion – including the creation of 110 jobs and tax revenue paid by FortisBC to the government – they aren't enough to offset the cons.
"Ulimately, we don't see that many pros and quite a few cons," said Finn.
The Friends of Tilbury and Council of Canadians of Richmond-Delta will be co-hosting the June 24 open house, in opposition of the expansion.
Information about the open house can be found on its Facebook event page. The Friends of Tilbury is composed of members from other groups, such as the Council of Canadians, My Sea to Sky and the Wilderness Committee.
---
To view the original article published by Richmond News, click here.