Nanaimo community members hear arguments against pipeline
Sunday, October 14, 2018
Nanaimo News Bulletin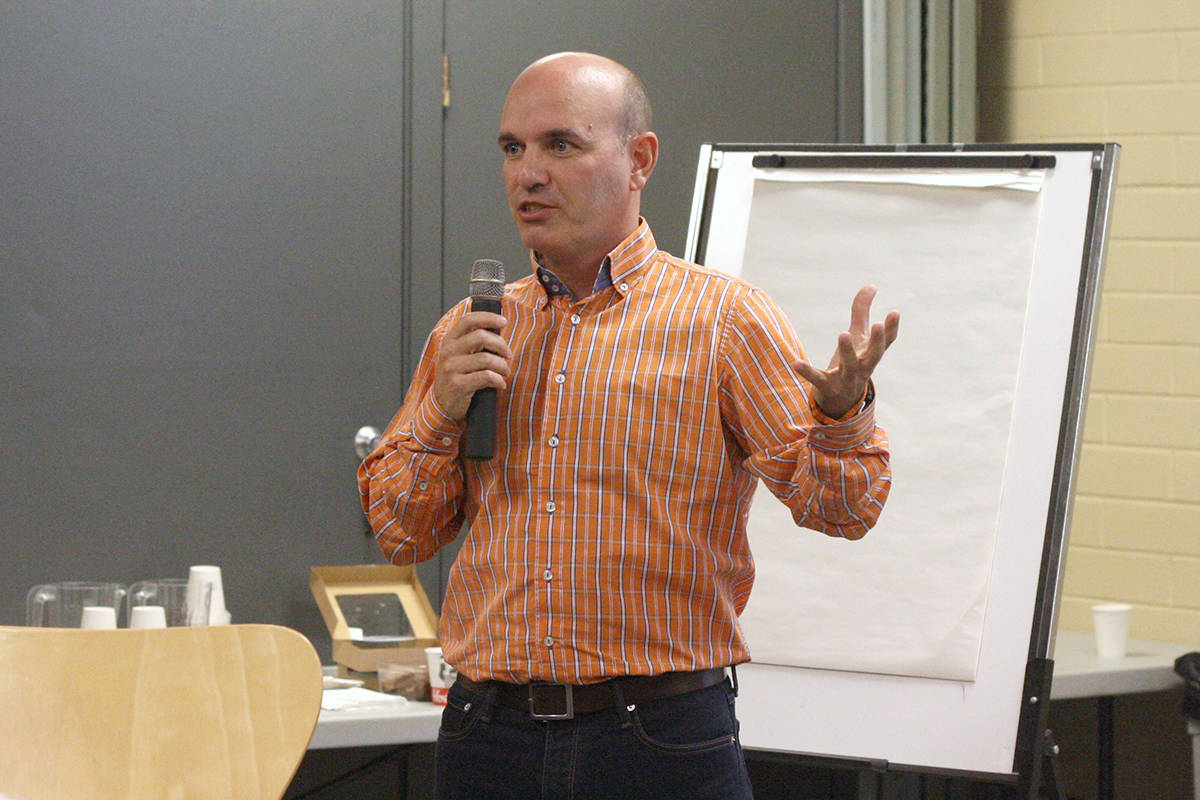 Federal NDP now petitioning the government to cease Trans Mountain pipeline expansion project
It isn't a Kinder Morgan pipeline anymore, but it's still a pipeline that a lot of Canadians don't want to see built.
Nanaimo-Ladysmith MP Sheila Malcolmson, with her NDP caucus colleague and Skeena-Bulkley Valley MP Nathan Cullen, hosted a town hall last week to try to build opposition to the federal government's Trans Mountain pipeline expansion project.
Cullen has been appointed the New Democratic Party's lead on the file and is touring ridings with a goal of filling a petition with 100,000 signatures over a 100-day time frame. He was at the Beban Park social centre last Monday for the town hall meeting.
"What we need is a conversation about where we're headed as a country," Cullen said. "What are we doing with indigenous rights and title? Are we leaving the planet better than we found it? Are we providing jobs that don't threaten other jobs and the way that we live? And for me this is not an existential crisis, this is a real practical thing. This is flesh and blood. This is our reality."
He mentioned the planned increase to tanker traffic in the Strait of Georgia and said some of the largest tankers that exist in the world would be coming. He pointed to independent research by the City of Vancouver that estimates an 87 per cent of a chance of a spill in the next 50 years.
Torrance Coste, Vancouver Island campaigner with the Wilderness Committee, said he opposes the Trans Mountain pipeline expansion for hundreds of reasons and said he wishes he could spend his time advancing good ideas rather than fighting bad ones.
"The Salish Sea is already an industrial highway," Coste said. "The point is to stabilize that and bring that tanker traffic down as our societies move away from fossil fuels, not ramping it up to infinity."
Snuneymuxw Coun. Douglas White III recalled some of the consultation that took place with Kinder Morgan. White said there was a mention of jobs in oil spill response and he said while he can laugh about it now, at the time he was furious and insulted and compared it to First Nations people being asked to dig their own graves.
White said when considering a project with environmental consequences, there's a "doctrine of continuity" that must persist.
"It puts upon governance of Snuneymuxw a duty of continuity and a duty to future generations of Snuneymuxw that our work has to be informed by safeguarding and ensuring the continuity of the fishery, for example," he said.
If the project and the process can't be done in a way that's respectful of the continuity of treaty rights, then "how can this be in the national interest, if it doesn't advance the relationship with indigenous people?" White asked.
Malcolmson suggested those who elected her as MP want her to oppose pipeline projects.
"The mandate that I got, that I campaigned very actively on in the 2015 election, was to do everything we can to protect the coast and to recognize that our responsibility as elected leaders is to defend what we have, the jobs we have and the ecology that we have," she said.
Cullen recalled a moment during National Energy Board pipeline hearings when one intervenor quoted the national anthem, with emphasis on standing on guard. Cullen said fighting pipeline expansion doesn't make anyone an enemy of the state.
"I argue that it makes you the opposite," he said. "It makes you a friend of the country if you're able to use your voice and stand up and say something."
The NDP petition asks the federal government to cease the Trans Mountain pipeline expansion and invest in alternative, renewable energy sources. The petition can be viewed at this link.