Opinion: Plenty of reasons for New West residents to oppose TMX
Friday, August 02, 2019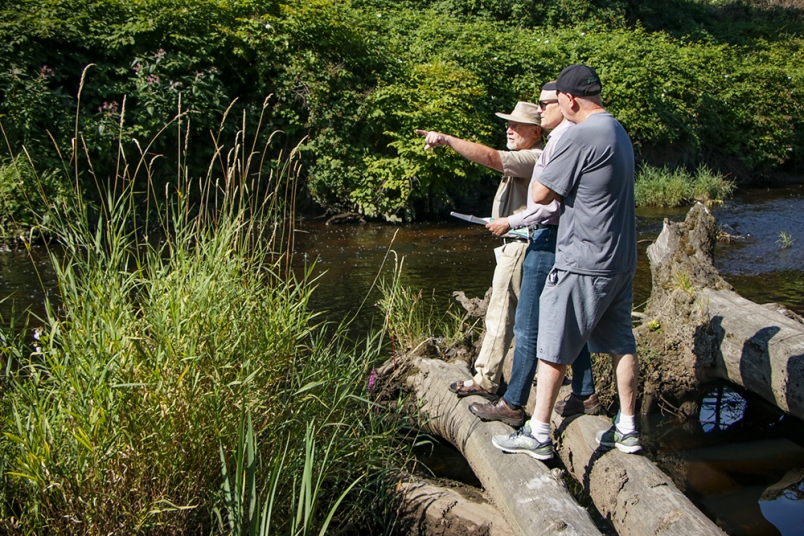 If you think the Trans Mountain pipeline expansion project is just Burnaby's problem, we'd like to point out a couple of things.
People like to think the big city next door is the only one in Metro Vancouver that faces major headaches if the project ever goes ahead.
It's true that the project will terminate in Burnaby and poses an array of issues for that city, but there is a lot more to consider that might motivate more New Westminster to actively oppose the project.
Environmental threats posed by TMX were the reason why the New Westminster Environmental Partners teamed up with the Wilderness Committee recently to take local politicians on a tour along Brunette River, which runs through Burnaby and between New West and Coquitlam.
Vic Leach with New West Environmental Partners told the Record that few residents in the area are aware that the Trans Mountain pipeline expansion would run along the river.
The current pipeline does not run through the Brunette River area – the two would diverge in the area of Colony Farm in Coquitlam, which Peter McCartney, climate campaigner with Wilderness Committee, said is largely due to practicality. That's because the route of the existing pipeline cuts through dozens of private properties in Coquitlam and Burnaby, and laying another pipeline on the same route would present more challenges.
"Unfortunately, some of the only spaces left in the city for a pipeline corridor are the most ecologically sensitive," McCartney said.
Members of the New West Environmental Partners said the conservation area was a North American pioneer in revitalizing a salmon habitat several decades ago, once thought irreversibly deteriorated through industrialization in the area.
Now, McCartney said the conservation area is home to some sensitive species of fish and riparian areas that filter sediment and pesticides that enter the river.
"The Brunette River is a key piece of the whole ecosystem here in the Lower Mainland," he said. "It's ecologically sensitive with the species at risk that are here – the Nooksack dace, the cutthroat trout … For the Nooksack dace, this is the second-biggest population in all of Canada, and an oil spill here would be devastating.
"We can't just allow these species to be driven to extinction. It's not just morally wrong; it's against the law."
The other issues to consider are the threats posed to marine life from TMX's increased tanker traffic. And, on a wider scale, there is the general threat to the environment posed from building such a massive project to increase shipments of diluted bitumen.
Both of those last bits were acknowledged by the National Energy Board in its consideration of the project, but ultimately rejected because of the project's supposed financial benefits to Canada.
So, there you go. Ample hyper-local and global reasons for New West residents to ponder.