Spô'zêm First Nation and environmental groups celebrate halt to logging in forests where last three spotted owls live
Thursday, February 25, 2021
Wilderness Committee, Ecojustice, Spô'zêm Nation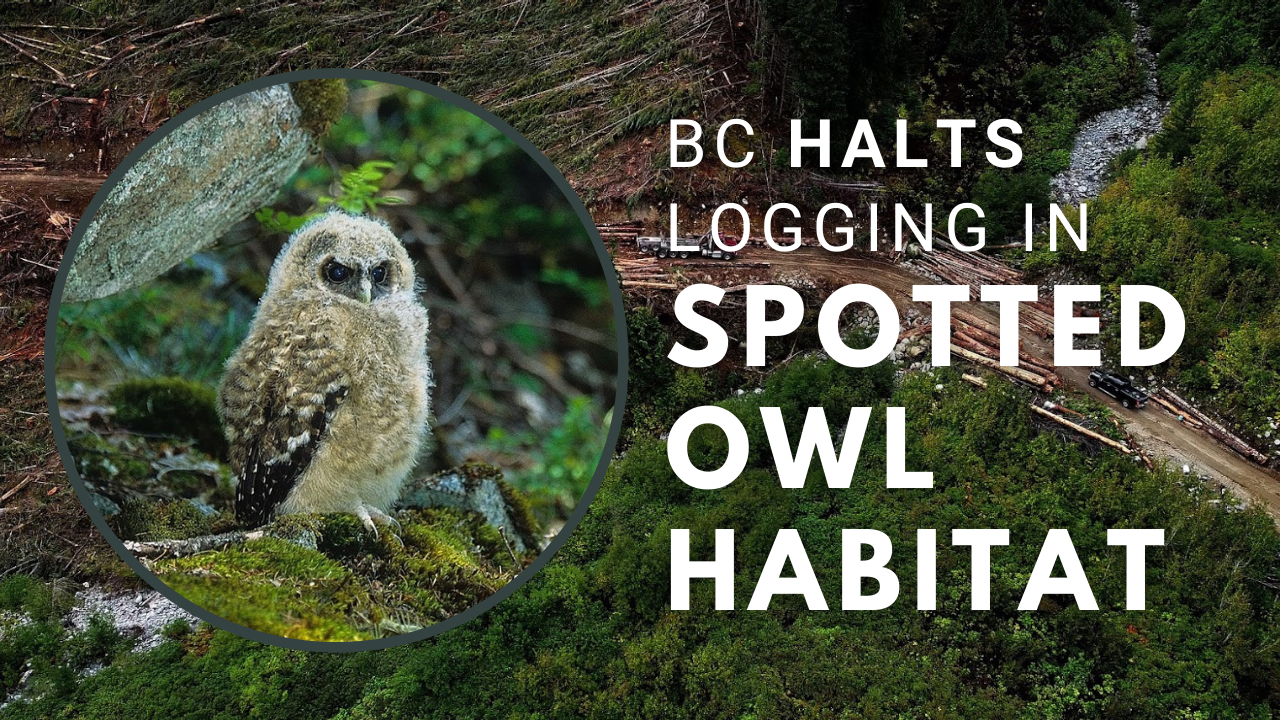 Groups say this gives the nearly extirpated species a shot at survival

VANCOUVER / UNCEDED xʷməθkʷəy̓əm, Sḵwx̱wú7mes and Sel̓íl̓witulh TERRITORIES — Today the B.C. and the federal governments announced a halt for at least a year to all logging within the forests of Spô'zêm First Nation territory, specifically the Spuzzum and Utzlius watersheds, that are home to the last known wild spotted owls in Canada.

"This is a moment to celebrate. It's a great relief after 20 years working to save the spotted owls to have logging stopped in the valleys of Spô'zêm Nation territory where the last owls live," said Wilderness Committee Protected Areas Campaigner Joe Foy. 

"After all this time on-the-ground with our partners Spô'zêm Nation and Ecojustice documenting the devastation and engaging people to demand action of the B.C. and federal governments, this is a welcome development."

In the spring of 2019, Ecojustice, on behalf of the Wilderness Committee, sent a letter to the former federal minister of the environment and climate change demanding she fulfil obligations to protect and restore the endangered owls under the federal Species at Risk Act or the groups would take legal action. Last October, after insufficient progress, the groups put the new federal environment minister on notice.

"This is an important day. Ecojustice is pleased that the B.C. government has stepped up to address this emergency and protect the last wild owls," said Kegan Pepper-Smith, Ecojustice lawyer. 

BC Timber Sales, a B.C. government agency, had a number of proposed clear-cuts in the owl's old-growth forest habitat prior to this announcement. The Spô'zêm Nation, whose territory lies between Yale and Boston Bar and is home to the last remaining spotted owls, have asked the province to cease all logging activities in its territory to give the owls a chance at survival. 

"Spô'zêm First Nation stands proud as we have further shown that with the right intentions, collaboration and productive dialogue great things are achievable," said Spô'zêm Nation Chief James Hobart. "One thing is certain, we didn't get here by ourselves. Spô'zêm First Nation Chief and Council want to acknowledge the undying support from Joe Foy and the Wilderness Committee and Kegan Pepper-Smith from Ecojustice."

"This monumental step forward in the assertion of our Nation's own title and rights could only have been achieved with government representatives who smashed through the status quo, tore down walls of mistrust, rolled up their sleeves and in the end, were true to their word and the word of the B.C. initiative set forth by Premier John Horgan and the NDP who only a short time ago unanimously brought legislation to implement UNDRIP in its entirety," Hobart adds.

Prior to the beginning of industrial logging, there were an estimated 500 pairs of spotted owls in the old-growth forests of southwest B.C. Years of clear-cutting has resulted in the owl becoming one of Canada's most endangered species. Provincial biologists have only been able to locate three adult owls, including a breeding pair, remaining in the wild. 

"One year is not going to save the spotted owls but it gives us time to make a plan," said Foy. "The next step is for the provincial and federal governments, in partnership with First Nations, to protect all of the spotted owl forest habitats. Obviously, they haven't protected enough for the species to survive and thrive."

Without provincial endangered species legislation, others like the spotted owl will also soon face extinction.

"While we recognize this announcement is a step in the right direction towards ensuring this species is given a chance at survival and recovery, more must be done to address the urgent threat to B.C.'s endangered species and the ongoing loss of habitat," added Pepper-Smith.

The environmental organizations are calling on the B.C. government to take effective action in the face of the current unprecedented human-caused global biodiversity crisis.
–30–
Click here for footage of logging and old-growth forest in the area.
Click here for photos, maps and short clips of the area and spotted owls.
For more information, please contact:

Joe Foy | Protected Areas Campaigner
604 880 2580, joe@wildernesscommittee.org 

Venetia Jones, communications specialist | Ecojustice
613 447 4546, vjones@ecojustice.ca

Chief James Hobart | Spô'zêm First Nation
604 860 3571, chief@spuzzumnation.com

About

The Wilderness Committee works to protect life-giving biological diversity through strategic research, community mobilizing and grassroots public education. Their offices are located in Vancouver, Victoria, Winnipeg and Toronto and supporters, volunteers and activists from coast to coast to coast. They take action to preserve wilderness, protect wildlife, defend parks, safeguard public resources and fight for a stable and healthy climate. 

Ecojustice uses the power of the law to defend nature, combat climate change, and fight for a healthy environment. Its strategic, public interest lawsuits and advocacy lead to precedent-setting court decisions and law and policy that deliver lasting solutions to Canada's most urgent environmental problems. As Canada's largest environmental law charity, Ecojustice operates offices in Vancouver, Calgary, Toronto, Ottawa, and Halifax.

Spô'zêm (Spuzzum) First Nation is an unincorporated First Nations settlement nestled on the Trans-Canada Highway 1 in the lower Fraser Canyon, 30 km (50 km of road) north of Hope, B.C. Spô'zêm Nation is a Nlaka'pamux First Nations government located in Spô'zêm. The majority of the reserve is natural canyon land and covered with first and second-growth forest. Spô'zêm is pursuing economic development that aligns with core community values to assist in the economic growth of its members.