Stop a Massive Salmon Farm in Clayoquot Sound
Wednesday, June 08, 2011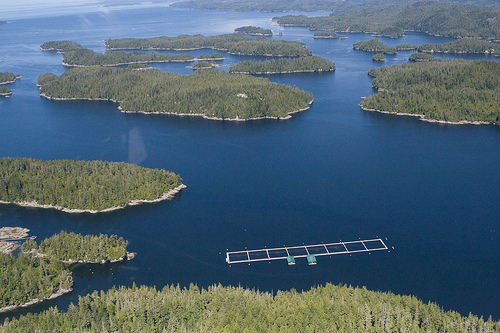 Mainstream Canada, one of the worlds largest aquaculture companies, has applied for a 56-hectare tenure for a new salmon farm in the sensitive coastal ecosystems in Clayoquot Sound and we have until August 12 to have a say.

There are already 22 open net salmon feedlots in the UNESCO Biosphere Reserve at Clayoquot Sound. This massive new proposal, located less than a kilometre away from a thriving Chinook spawning river, could have devastating impacts on the region's already stressed wild salmon stocks.
We are also concerned about the impact that waste from the new farm would have on the sensitive ocean habitat near Meares Island. There are well documented impacts on the ocean floor near and around salmon farms, and the chemicals used to minimize pests and parasites are very harmful to crustaceans, like clams, mussels and oysters.
The Plover Point area supports fisheries for spot prawns, geoducks and crabs, as well as documented herring spawning grounds. Healthy eel grass beds have been found which provide key habitat for critters that many iconic species depend on for food. Locals often report seeing sea lions, gray whales and orcas feeding in the area. All of this will be at risk if this salmon farm is allowed to be built.
The scientific evidence is clear. Salmon farms and wild salmon don't mix. The BC government has a chance to say no. On August 12 the government will be making a decision about whether or not to approve the tenure request and give a license to the new farm. This comment period has already been extending because of public scrutiny.
It is time for the BC government to take a stand, but they will only do so with significant public pressure. Please take a moment to write a letter, and please ask your friends and family to do so as well.
Clayoquot Sound, and our wild salmon, are too precious to be put in this kind of danger. No new salmon farms should be allowed on BC's magnificent coast.
Tria Donaldson | Pacific Coast Campaigner
Wilderness Committee