Tar sands growth doesn't square with Canada's climate promises
Wednesday, May 11, 2016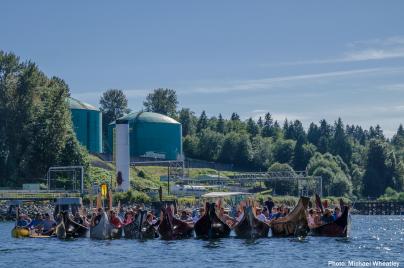 News Release
The National Energy Board offers misguided projections on tar sands productions
VANCOUVER, BC – The National Energy Board projections released today paint a rosy picture of tar sands growth for decades to come, despite the Canadian government's commitment to reach a global goal to limit global warming to 1.5 degrees.
Canada's Energy Future 2016 suggests a 78 per cent increase in Alberta's oil production by 2040, though it notes the amount of growth depends on the price of oil and pipeline development. It does not take into consideration the Alberta government's cap on greenhouse gas emissions from the tar sands.
"Continued expansion of the tar sands is incompatible with a safe climate," said Wilderness Committee Climate Campaigner Peter McCartney. "Canada is in a state of denial if it thinks this dirty fossil fuel has any place in the world after the Paris climate agreement."
A study published last year in Nature shows Alberta tar sands production must fall to "negligible" levels after 2020 just to meet the less ambitious two degree target.
"What the NEB research does show is the absolute necessity of stopping tar sands pipelines," said McCartney. "We've only got a few short years to put the brakes on this reckless industry."
While Canada projects growth for its tar sands industry, the rest of the world is moving away from fossil fuels. India wants to have 100 per cent electric cars on its roads by 2030. Even Saudi Arabia, a country synonymous with oil, is preparing to survive without it by 2020.
"Canada is being left behind. In a game of musical chairs, Canada is still obliviously dancing even though the music has stopped," said McCartney.
–30–
For more information, please contact:
Peter McCartney | Climate Campaigner, Wilderness Committee
778-239-1935, peter@wildernesscommittee.org