Trudeau doesn't get a pass on pipelines
Monday, January 25, 2021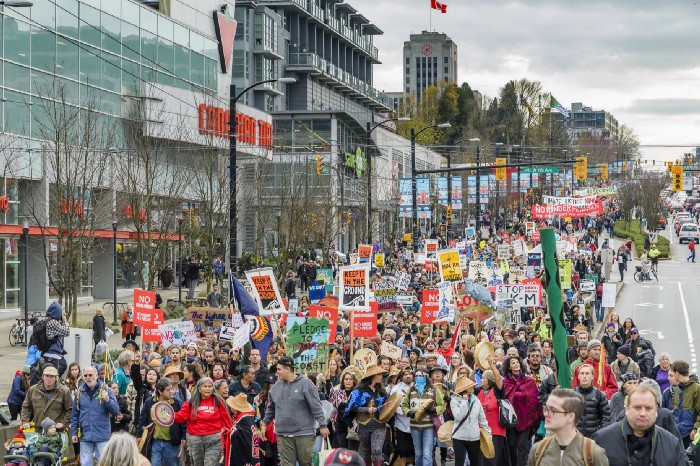 Despite Alberta Premier Jason Kenney throwing a fit about incoming President Biden's plans to cancel the Keystone XL pipeline, it may be Prime Minister Justin Trudeau who has more to worry about.
Why should a self-proclaimed climate champion be nervous to finally have an ally in the White House when it comes to the fight to eliminate carbon pollution? Because, frankly, the new U.S. leader is already showing him up.
Biden must understand what is obvious to anyone outside the Liberal cabinet: climate leaders don't build pipelines. His same rationale for cancelling Keystone XL also applies to the Trans Mountain expansion that the federal government bought and is currently building. No amount of talking points or promises of tree planting can change the fact that both pipelines are in direct conflict with Canada's climate goals.
Don't take my word for it. In November, Canadian Energy Regulator released a report showing neither Keystone XL nor Trans Mountain would be needed if the country even tries to meet its climate targets, let alone more ambitious plans for net-zero emissions.
Just two weeks later the federal government announced a new climate plan to do just that. That's right. Prime Minister Trudeau's own policies make the pipeline he's building obsolete. Numbers from the Parliamentary Budget Office confirm Trans Mountain will never make money for Canadians as we work to reduce emissions.
In other words, the environment and the economy only go "hand-in-hand," as Trudeau is fond of saying if they are walking briskly away from the oil and gas sector. Now that our American neighbours are getting serious about the existential threat of climate change, it's time for us to accept that the fossil fuel industry has an expiration date.
So why is Canada building a pipeline it is simultaneously rendering useless? If it's jobs the government is after surely there are better ways to spend tens of billions of dollars putting people to work. Biden wants to spend $2 trillion on the transformation to a green economy. Let's follow his lead.
Trudeau and his cabinet need to answer this question. If they're using taxpayer money to build a pipeline they know is a lousy investment simply because of the optics of facing the facts, Canadians deserve to know. It might take a bit of humility to admit they never should have bought Trans Mountain but it's better than sticking Canadians with a costly, useless steel tube.
Planting trees is easy. Cancelling pipelines is hard, but it just got easier. If the incoming American administration can be clear-eyed about what needs to be done to tackle this crisis, despite the power of the fossil fuel industry in that country, surely our government can do the same.
Biden and his team have clearly heard the Trudeau government make the case that a carbon tax somehow justifies new pipelines — and they're literally not buying what the Prime Minister is selling. Canadians shouldn't either.
If Trudeau wants to convince his base that climate change is a top priority, he is going to have to abandon the Trans Mountain pipeline. Canadians are getting a glimpse of what real climate leadership looks like now and won't fall for his all-talk-no-walk routine much longer.
Peter McCartney is the Climate Campaigner for the Wilderness Committee.