TV News Story - Canadian Government failing to protect Bees from Neonics
Sunday, September 29, 2013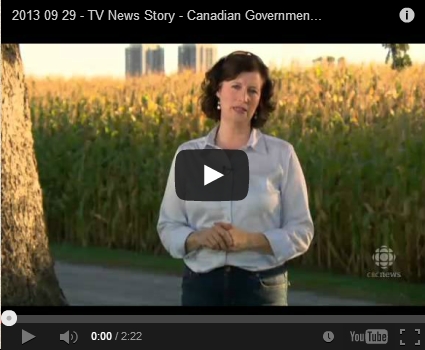 Earlier this year, the European Union severely restricted the use of four neonicotinoid pesticides, including clothianidin, because of the risk to bees' health. On Sept. 13, acknowledging that these pesticides cause harm to bees, Health Canada asked for public comments on proposed measures to mitigate impacts related to the use of neonicotinoid treated corn and soybean seed. But environmental groups say this is not enough, and that a full ban on all agricultural uses of clothianidian is needed.
Lawyers from the Canadian Environmental Law Association and Ecojustice have filed a Notice of Objection with the health minister on behalf of Sierra Club Canada, Wilderness Committee, David Suzuki Foundation and Équiterre.
According to the Pest Control Products Act, the health minister may establish a panel to review the decision in response to an objection. The panel would then recommend whether to reverse the decision. If the panel is established, environmental groups have the right to explain why they are bringing this objection. If the minister rejects the objection, she must provide a written explanation.