"Vote Energy" is a planetary death pact
Wednesday, January 23, 2019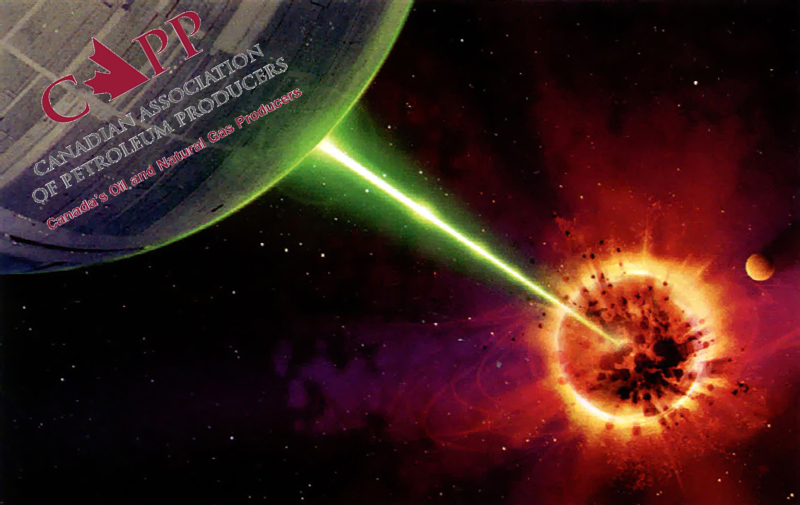 VANCOUVER - Wilderness Committee is aghast after the Canadian Association of Petroleum Producers (CAPP) brazenly released its "Vote Energy" plan which calls for a doubling of oil and gas growth in the next year, six new pipelines and four new liquefied natural gas terminals.
"My jaw dropped reading this report. I've always known these people are comic book supervillain evil but I never thought they would just come right out and say it," said Climate Campaigner Peter McCartney. "Canada's oil industry offers nothing but a shrug as climate change already brings wildfires, hurricanes, droughts, flooding, conflict, disease and poverty to millions of people around the world and here at home."
In defence of the plan, released ahead of Alberta's provincial election with a clear eye to the federal vote later this year, CAPP President Tim McMillan cited forecasts that rely on over three degrees of global warming by the end of the century. That level of climate change has long been considered so perilous that it's unthinkable. It comes after a recent IPCC report that stresses emissions must fall to zero by mid-century for a chance to limit warming to 1.5 degrees.
"This is a recipe for planetary ruin — full stop," said McCartney. "Obviously CAPP has lost its grasp of reality since the science tells us their industry cannot exist in 30 years if we are to avoid catastrophic climate change."
It's important to note the International Energy Agency (IEA) forecasts CAPP is relying on have proven wrong in the past. Ten years ago, the agency predicted a two per cent annual growth rate for coal that would last until 2030. Instead, demand for coal fell 1.9 per cent for the second year in a row and now the IEA forecast says it will flatline for the next decade.
"CAPP's report makes it clear the fossil fuel industry has no plan to adapt to a rapidly changing energy landscape and instead plans to use its staggering influence to extract more subsidies out of the Canadian public," said McCartney. "Canadians, especially our elected representatives, need to dismiss this report as a desperate attempt from a failing industry to resurrect itself at our collective expense."
–30–
For more information, please contact:
Peter McCartney | Climate Campaigner
778-239-1935, peter@wildernesscommittee.org