What does California really think of BC's river diversion projects?
Thursday, February 13, 2014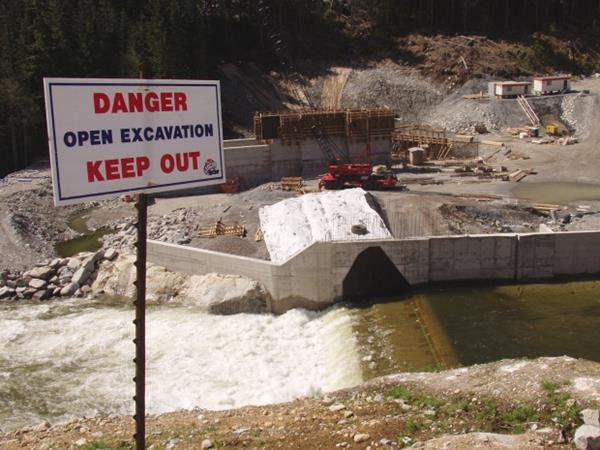 February 7, 2014
There's good news coming from south of the border this month – news that could save hundreds of BC's wild rivers from being dammed and diverted for private power!
On January 15th, 2014, the California Energy Commission adopted a final report that excludes private run-of-river hydro projects in BC from the state's Renewable Portfolio Standards (RPS). Basically, the report confirms what we have known all along: that BC river diversion projects don't meet California's environmental standards when it comes to producing electricity, because of British Columbia's lax environmental laws and the significant impacts the projects have on our rivers, streams and fish.
To read more about California's decision, click here.
The Wilderness Committee has worked for years with allies in California to ensure that regulators know about the risks to our wild rivers and fish from river diversion projects in BC. Time and time again, we've uncovered proof that many of these projects are seriously lacking when it comes to maintaining adequate water flows or protecting fish habitat
Just recently, the "horror shows" occurring on some BC rivers made front page news in The Province newspaper, thanks to FOI documents obtained by the Wilderness Committee. The BC Ministry of Forests, Lands and Natural Resource Operations confirmed that as of this month, 75 per cent of operating river diversion projects in the South Coast region still have "unsatisfactory operating procedures" – even after the BC government identified non-compliance in this industry as a priority issue to address two years ago. Read the Province article here.
Also in recent news, the private power industry's trade association – Clean Energy BC (CEBC) – released a new study on the impacts of run-of-river (RoR) hydro on fish. CEBC commissioned the Pacific Salmon Foundation to undertake the study, which found that over 97 per cent of river diversion projects are operating in salmonid habitat and that data gaps in the information provided by IPP operators was too deficient to draw conclusions about salmonid impacts.
"The extent of association of salmonids with RoR facilities was much greater than expected and indicates a risk to BC salmonids that is not yet fully understood," the report explains. It also found that "the lack of independent review and analysis is a serious deficiency in environmental oversight," stating that without this step the public cannot be assured of responsible development. For our response to this report, check out this radio interview from CKNW's Bill Good Show.
Despite all this, the BC government recently granted approval for the controversial Narrows Inlet Hydro Project on the Sunshine Coast. It's a disappointing result, but it has only strengthened our resolve to protect the rest of BC's wild rivers and creeks from being industrialized for private profit.
If you haven't written already, please take action by writing to the provincial government to demand an immediate moratorium on private river diversion hydro projects in BC!
Stay tuned for more updates on this important campaign!
Gwen Barlee | Policy Director
---
Photo: Ashlu River run-of-river hydro project.