Where To Go For Plants This Season!
Friday, April 17, 2015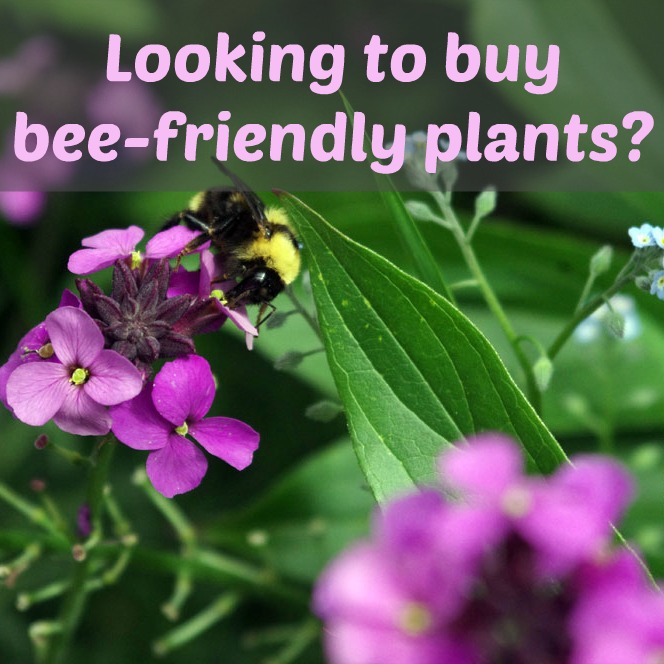 We are doing our best to give you the information you need to buy bee-friendly plants for this season. RONA, Home Hardware, Home Depot, Lowe's, Sheridan Nurseries and Art Knapp are just some of the larger retailers who have publicly pledged to label and/or phase out bee-killing neonics. However, this process will likely take a few years, so you must still be wary while purchasing plants this season – if a retailer can't guarantee their plants are neonic free – don't buy them!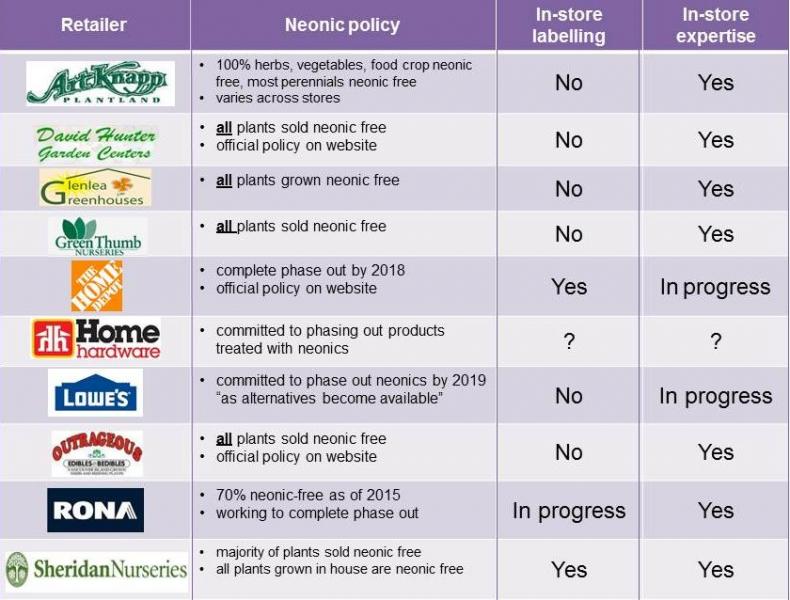 ---
Hunters Garden Centre has committed to sell only plants that are neonic-free. You can read their neonicotinoid policy here. We've recently been informed that "Heritage Perennials" from Valleybrook are treated with a neonicotinoid soil drench. Valleybrook is a major plant supplier to BC and elsewhere. Beware of these specific plants, which come in dark blue square pots, when buying at Hunters and other garden centres.
Over in Winnipeg, Manitoba Glenlea Greenhouse confirmed with one of our supporters that they grow their own plants and do not use neonics. 
We'd also like to praise Green Thumb Nurseries in Nanaimo, BC who when inquired by one of our supporters about whether they treat their plants with neonics informed us "absolutely not!" They purchase their plants from Outrageous Edibles & Bedibles, a neonic-free facility located in North Errington, west of Qualicum Beach.
Another garden centre that has committed to going neonic-free is ART KNAPP!** Art Knapp is proud to say that:
100% of herbs, vegetables and other food crops are guaranteed to be neonicotinoid-free!

~90% of nursery and perennial plants will be neonic-free, with a goal to be 100% neonic-free in the next year or two.

Plants will not be labelled, but they assured us that someone in-store would be able to speak to which plants are treated and which are not.

Annuals are still a big problem, and are likely to be treated with neonicotinoids.
**We are looking into whether all Art Knapp retailers have this policy.  It is best to be wary when purchasing this season and to ask your local Art Knapp for a neonic-free guarantee before purchasing your plants for the season!
All plants grown by Sheridan Nurseries are neonic-free, and the seeds they use are not coated with the pesticide. As always, be wary when purchasing from their garden centres, since they cannot guarantee all the plants they source and sell from other suppliers have not been treated with the pesticide.  They can assure you their line of"Bee-neficial" perennials is neonic-free. 
We'd also like to give strong praise to RONA! Their stores are 70% neonicotinoid free, and they hope to increase that number for 2016. For this season, plants will not be labelled, but there will be someone in-store to guide buyers on which plants are or are not treated. In 2016, all their plant suppliers will have to clearly identify whether their products were grown with or without the use of neonicotinoids.
At Home Depot, while they will still have plants treated with neonics, they are requiring their suppliers to label the plants that are treated. Whether or not this label will make it to the shelf is uncertain, so you should still be sure to ask. If you do see a label in-store, let us know!
Lowe's has made a commitment to phasing out neonics, but it doesn't look like anything will be happening this season.
We will be continually updating this section as we hear back from the various garden centers, so keep checking in! Also, if you know of any other garden centres that are (or are not) going neonic-free, give us a call at 1-800-661-9453 and let us know! We need your help on the ground to keep the pressure on all garden centres and plant suppliers this season.
[updated May 05, 2016]