A wolf lurks at edge of IPP 'green' projects
Tuesday, September 18, 2012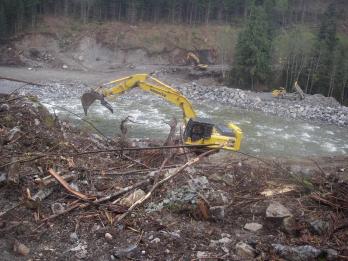 The Vancouver Sun
By Gwen Barlee
September 18, 2012

When I was growing up my mother used to warn me to look out for a wolf in sheep's clothing. What she meant was to be cautious about people and situations that are not what they seem. This idiom aptly applies to the issue of independent power projects (IPPs) in British Columbia.
At first blush IPPs, notably river diversion projects, seem like a visionary and green solution to producing low carbon energy. Indeed, this is what the Wilderness Committee, a BC-based environmental organization, first thought when we were introduced to the concept a decade ago, and it is what the IPP industry vigorously advocates, as evidenced in Paul Kariya's commentary to The Vancouver Sun on September 3rd.
Unfortunately, the reality is far different.
History shows that IPPs took root in BC when the provincial government introduced an energy policy in 2002 which forbade BC Hydro from producing new sources of hydroelectricity. This led to over 800 creeks, rivers and even lakes being "staked" by private power companies who were eager to capitalize on the rich electricity contracts BC Hydro was forced to issue. The move to stimulate IPPs in BC had nothing to do with tackling climate change, as the BC government at that time actively opposed the implementation of the Kyoto Protocol. Instead, it had to do with electricity privatization and deregulation – twin concepts sweeping North America at the time.
Today, because of a horribly misguided energy policy, BC Hydro is now on the hook for over $50 billion – yes, billion – in sweetheart energy purchase agreements to IPPs. It is important to remember that IPP electricity produced here was never meant for BC. It was slated for California, except California doesn't consider river-diversion projects to be green and it won't pay a premium for the power.
So here we sit, with a publicly-owned utility saddled with an enormous debt for power we don't need. BC Hydro, once the envy of North America for providing our province with reliable low-carbon electricity, now hovers on the edge of bankruptcy unless it can pass on its considerable debt to ratepayers.
Why is an environmental organization like the Wilderness Committee concerned about BC Hydro? Simply put, a healthy, viable BC Hydro is one of our best tools against climate change – and anything that damages our ability to successfully tackle climate change must be remedied.
Unfortunately, our concerns don't end here.
Kariya's assertion that river diversion projects protect rivers, streams and the fish and salmon in them is so misleading it is almost fictional. Government documents have shown that there is "considerable non-compliance with managing flows for fish on operating projects," that "projects are increasingly situated in sensitive fish habitats," that industry best practices are "inadequate and inappropriately applied," and government oversight of the industry is deficient. Indeed, a story broken by The Vancouver Sun in March of this year revealed that "water-flow fluctuations caused by run-of-river hydro projects are killing fish — and the problem is not isolated."
The public shouldn't be confused that IPPs represent green energy. Real green energy focuses first and foremost on conservation, involves long-term planning, high environmental standards, strong democratic processes, and is supported by local communities and First Nations. It is also important to remember that BC Hydro already provides us with low-carbon electricity, transparency and the long-term energy security that we need.
At the end of the day lifting the green cloak that camouflages IPPs is essential, because it enables people to understand the huge financial and significant environmental risks that accompany these projects. Recognizing a wolf in sheep's clothing is the first step toward making prudent choices and wise decisions
Gwen Barlee is the Wilderness Committee's policy director.