Keep the Peace – Site C? No Dam Way!
Wednesday, February 05, 2014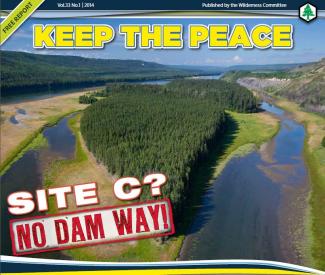 Save the Peace River Valley – Stop the Site C Dam!
The Peace River Valley has long been known as one of British Columbia's most beautiful regions. Its temperate climate and unique blend of farmland and wildlife habitat has made the valley renowned for its natural abundance.
For those who live there, it's a slice of heaven. But a proposal to build an $8 billion hydroelectric project – known as the the Site C dam – on the Peace River near the town of Fort St. John has residents calling for help.
BC Hydro, the province's publicly owned Crown Corporation, is seeking to build a 1,100-megawatt dam that would flood 83 kilometres of the Peace River from near Fort St. John upstream to Hudson's Hope.
The Site C dam would be 1,050 metres long and 60 metres high, and would also flood 14 kilometres of the Halfway River and 10 kilometres of the Moberly River, which are tributaries of the Peace River. Many people agree that the electricity produced by Site C would be expensive and unneeded, and that the damage caused by the project would be too great for a region already straining to heal from earlier industrial projects.
This report will introduce you to the amazing Peace River Valley and the people (and wildlife) who live there. Find out more about this beautiful place, and learn what you can do to help save it from being drowned out by Site C.