Rainbow, Burnt Bridge, Chipmunk, Tzoonie, Volcano and Statlu are not just colourful names - they are some of the many wild creeks and rivers found throughout British Columbia. They are also just a few of the over 700 water bodies that have been staked by private power corporations since 2002.

The rush to stake our streams and rivers was triggered by the 2002 Energy Plan when the provincial government forbade BC Hydro, our very profitable crown corporation, from producing new sources of hydroelectricity as part of a government shift to deregulate the electricity sector in BC. Since that time there has been a 1,040% increase in waterpower license applications, with mining companies, stock promoters and even, US giant, General Electric looking to develop BC streams and rivers for power.

The proliferation of private hydro projects, also know as Independent Power Projects (IPPs), appears green and sustainable at the outset but is fraught with problems:
There is no provincial planning and local governments, through the enactment of the infamous Bill 30, have had their zoning authority removed.
Most projects do not undergo an environmental assessment and even if they do the cumulative impacts of the transmission lines, logging, road networks and river diversions which accompany these projects are not evaluated by the provincial government. 
Not surprisingly, there is growing public concern regarding the wisdom of turning over our rivers and the production of hydroelectricity to the private sector.
The Wilderness Committee recognizes that we have something unique in British Columbia: a public utility which produces low-carbon energy provides for BC's energy security, promotes conservation initiatives, can engage in long-term planning and is answerable and accountable to the people of our province.  

In an era of climate change, it is essential that we think ahead and make wise decisions. There is a right way and a wrong way to produce green power – let's make sure we do it the right way. Join the Wilderness Committee in calling for a moratorium on river power projects until they are regionally planned, environmentally appropriate, acceptable to First Nations and publicly owned.
Support Us
Your much appreciated donation keeps this work going!
Volunteer
Get in on the action and make a difference!
Reports & Publications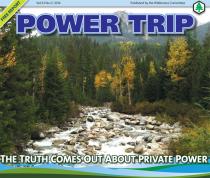 Exposing the industrial impacts on BC's wild riversThe move to exploit BC's wild rivers for private hydropower development has been fraught with controversy. Due to poor planning, a vast majority of river diversion projects are situated in fish habitat, and low environmental standards and lax...