Defending the nature found in provincial parks in the lands now called Ontario is our responsibility to future generations. Old growth forests and freshwater lakes are an incredible destination for us to visit and gain solace. The wilderness that make up provincial parks help preserve biodiversity that provides a healthy world for us, giving us clean water, air filtration and climate mitigation.
Algonquin Provincial Park was the first park in Ontario but it is also the most at risk park in the province, as almost two-thirds of Algonquin Provincial Park is designated for industrial logging – it is one of only two parks in Canada where logging is still occurring.
Despite the immense popularity of Algonquin Park as a natural destination, the Ontario government continues to insist that Algonquin be logged for commercial benefit. More than 2,100 km of canoe routes draw people to Algonquin to experience life in the wild, but there are more than 5,000 km of logging roads slicing up the wilderness of Algonquin Park.
In 2014, the Environment Commissioner of Ontario released a report calling on the Ontario government to remove logging from Algonquin, as enough wood supply existed outside the park to provide fibre for local mills. The government so far has not acted.
Ontario has signed on to a worldwide United Nations initiative which aims to protect 17% of all lands and freshwater by 2020 to preserve our vanishing biodiversity. Stopping the logging in Algonquin Park will help Ontario reach this protected area goal.
Ontario stopped logging in other parks more than two decades ago and Canada stopped logging in national parks in 1930! It is time for the Ontario government to end logging in Algonquin Provincial Park.
Support Us
Your much appreciated donation keeps this work going!
Volunteer
Get in on the action and make a difference!
Reports & Publications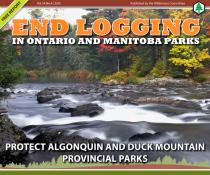 Parks should be protected – not logged Algonquin Provincial Park in Ontario and Duck Mountain Provincial Park in Manitoba are two popular parks that share the dubious distinction of being the two Canadian parks with long-term logging operations continuing inside their boundaries. The idea of...