Manitoba will join with Nunavut to monitor essential caribou herd
Wednesday, March 29, 2017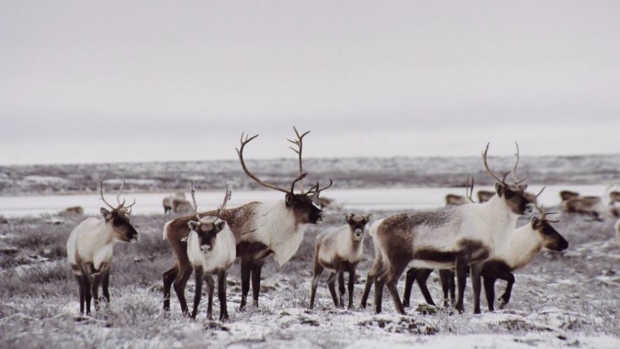 Manitoba is partnering with the government of Nunavut to assess the state of a caribou herd that's an essential food source in Canada's North.
The Qamanirjuaq barren-ground caribou herd is one of the last that Indigenous communities rely on both for economic reasons and for healthy protein.
"By far this would be the biggest source of reliable food," said Eric Reder, a spokesperson with the Wilderness Committee.
"Every community would be harvesting hundreds of animals every year."
Inuit, Dene and Cree nations all look to the herd for a nutritious, low-fat source of meat.
The caribou are "essential," said Reder, given that other foods in the North are often processed and shipped long distances from the south.
In the 1990s, the Qamanirjuaq herd boasted about 490,000 animals, but that number is likely lower now, he said.
"Just like caribou across Canada, this particular population is in decline."
A March 15 order in council says Manitoba Sustainable Development will assist Nunavut in the caribou survey "to ensure the long-term sustainability" of the herd, using scientific aerial photography to assess it.
The province will also support the survey financially.
Monitoring a slow-motion crisis
Human industrial encroachment, climate change and predator populations are among the risks caribou face in Canada.
"Any sort of development can affect populations, predator increases can affect populations, and of course the rapidly changing climate is a really big unknown," said Reder.
Caribou live in a wide range of climates from mountains to forests and into the High Arctic.
In what's been described as a slow-motion crisis, the animals have slowly been moving further north and declining in numbers in North America.
Last year the barren-land caribou, a subspecies of caribou, were listed as threatened by the Committee on the Status of Endangered Wildlife in Canada, a group made up of 50 scientists.
The barren-land caribou make up more than a dozen herds, including the Qamanirjuaq, across Canada's territories and the northern Prairies.
---
Read the original article here