Quebec plans for caribou shock environmental groups
Tuesday, April 25, 2017
Radio Canada International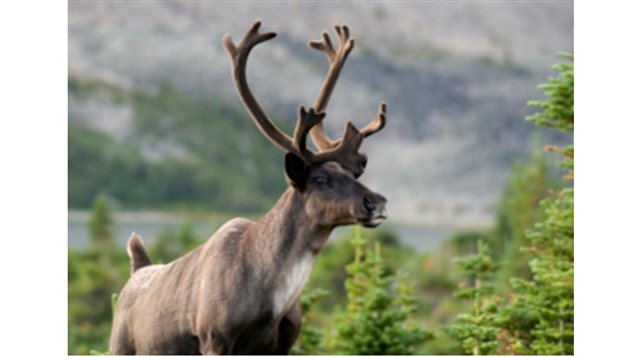 A number of environmental and conservation groups are expressing a mixture of shock and surprise at a Quebec announcement concerning a small herd of caribou.
Woodland caribou (boreal caribou) herd populations are in decline across the entire country and listed as "vulnerable" under Quebec's listing and the IUCN Red list, meaning they face a high risk of  extinction in the wild. Nationally, the woodland caribou are listed as "endangered".
The provincial government said it will capture the remaining caribou around the Val D'Or area and move them to a zoo over 400 kilometres away to take part in a captive breeding programme.   Quebec says there are between 6,000 to 9,000 caribou scattered across the province, but only about 15 left in the Val D'Or herd and that at least 50 animals are needed to sustain a herd.
The plan to capture the surviving members of this wild caribou herd and move them to a zoo is horrific, and shows the Quebec government isn't upholding their responsibility to protect at risk species,"  Eric Reder, Manitoba Campaign Director for the Wilderness Committee.
Groups such as Greenpeace, Action Boreale, and the David Suzuki Foundation say this sets a dangerous precedent. As long as the animals remain in their natural habitat, both the federal and provincial governments have legal responsibilities to protect them – under both the federal Species at Risk Act (SARA) and Quebec's caribou recovery plan.
While the province says it's an extreme but necessary step, the environmental groups say it has the air of abandoning  protection  obligations in the wild, and perhaps allowing for expansion of forestry and other industrial development.
Eric Reder said in a press release today, "The Quebec government can not be allowed to just give up on protecting the environment and species at risk, just so industry can expand".
The zoo is a 485 hectare complex near Lac St Jean north of Quebec City but Environment Canada has said the threshold range for a caribou herd is 50,000 hectares.The groups are calling on the Quebec government to halt their plan and  strengthen protection of the caribou habitat and as such, the biodiversity of the region.
They say the caribou are a keystone species and the animal's decline highlights threats facing the forests and all species those forests sustain.
The groups say that if the province fails to act, recovery of caribou habitat must be undertaken federally.
---
Photo Credit: Mark Bradley- Parks Canada - Read the original article here