Wilderness Committee condemns government decision to issue new peat mine licence
Wednesday, March 25, 2015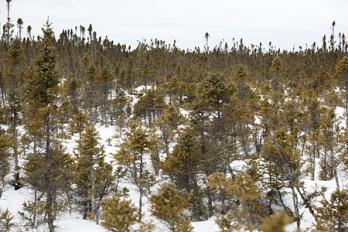 Media Release - March 25, 2015
Permitting new carbon-releasing peat mines hurts Manitoba's action to fight climate change
WINNIPEG – The Manitoba government issued an Environment Act Licence this week to Sunterra Horticulture Inc. to expand its peat mine operations near Lake Winnipeg, as a result of a proposal that has been awaiting a decision since 2011.
Manitoba's vast peatlands are considered the province's best natural defense against global warming, as they absorb a tremendous amount of climate-changing carbon. When peatlands are bulldozed, drained and harvested, they release the carbon being stored.
The Manitoba government's own peatland mining report, commissioned and completed this year by the International Institute for Sustainable Development, showed there was no adequate strategy to mitigate the release of carbon from peat mining.
"There is only one way to keep Manitoba peat from accelerating climate change: leave the peat in the ground," said Eric Reder, Manitoba Campaign Director for the Wilderness Committee.
The Manitoba government implemented a moratorium on peat mining on new quarry leases in the province in 2011 under the Save Lake Winnipeg Act. This new peat expansion is being permitted under a loophole in the moratorium, because it is situated on old quarry leases. In 2012 and 2013, the Wilderness Committee helped thousands of Manitobans submit letters to the government, asking that peat mining be permanently banned.
"The more people hear about the carbon storage capabilities of peat, the more they understand that Manitoba needs to protect our peatlands," continued Reder. "Expanding peat mining in the face of climate chaos is devastatingly dumb."
With this last outstanding peat mine proposal now completed, the Wilderness Committee hopes the Manitoba government will commit to a permanent ban on new peat mines in the province.
-30-
For more information, contact:
Eric Reder | Manitoba Campaign Director, Wilderness Committee – (204) 997-8584
Additional resources:
Manitoba government registry on Sunterra peat mine licence
http://www.gov.mb.ca/conservation/eal/registries/4254-1sunterra/index.html
Wilderness Committee map of new peat licences
https://www.wildernesscommittee.org/sites/all/files/New_Peat_Licenses_Map_Mar2015.pdf