Wilderness Committee is powered by a community of donors, activists and volunteers from across the land now called Canada and around the world. They're the people who make the Wilderness Committee 100% people-powered. When you support the Wilderness Committee you'll join committed individuals like these.
Tell us the wild reason YOU support the Wilderness Committee and we may post yours here!  Fill out our Wilderness Defender Testimonial Form. 
Stuart
Mackinnon
I'm a city boy, born and raised in Vancouver. I grew up near Pacific Spirit Park, and played in the forest from a young age, but really the closest I got to real wilderness was at cub camp.
However, in my early thirties, I had the opportunity to teach in the James Bay region of northern Quebec in the tiny Cree village Nemaska, 1000 km north of Montreal. Here I learned to love natural spaces and the importance of protecting and preserving them. The curriculum was short of relevant materials, so I started using the mailings from the Wilderness Committee, first to supplement but later as my primary sources. I eventually returned to Vancouver, where I made a commitment to ensure every young person had access to natural spaces, even if they never left the city. I became a parks and natural spaces advocate, eventually being elected for 11 years as a Park Board Commissioner, including three years as Chair.
The Wilderness Committee has been an invaluable part of my journey, educating me and encouraging me to do better by nature. Being a monthly donor is part of the way I give back, but more importantly, as a legacy donor, I know that when my time is finished my estate will ensure the future of the Wilderness Committee is a little more secure. Thank you for all you do to educate, advocate and protect.
photo credit: Camil Dumont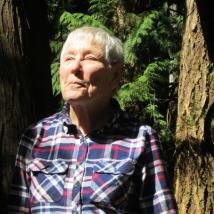 Denise
MacKean
From a very young age, my heart has been drawn to plants and animals occurring in nature. This was reinforced by a like-minded family. Since 1970 I have been actively involved in conservation efforts in British Columbia – first in the East Kootenays and then on Denman Island.
After visiting the "Western Canada Wilderness Committee"  – aka WC2  at the time – on a top floor in Gastown, I was smitten!
I have gladly supported their work for about 30 years. It seems cost-effective and has a "down to earth" attitude I admire and we have shared concerns and values.
It feels like the Wilderness Committee is "doing the work for me" (and at my age, that means a lot!).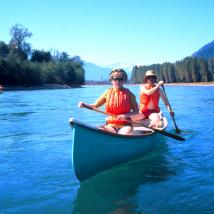 Jenny
Chapman
February 2019's report Save the Skagit resonated with a long-time Wilderness Committee activist and supporter Jenny Chapman. When her donation to protect key watersheds that cross the BC and Washington State borders arrived in the mail, we were delighted to find it with a slide of Jenny and friends canoeing the Skagit in 1969.
We called Jenny to ask more about her connection to this stunning wilderness. It was one of the many outdoor activities – from backpacking, skiing and more recently, snowshoeing – she and her family have come to love since she came to BC from the UK in '61. 
"I remember the big fish – two-foot, three-foot-long ones – coming right up to the boat," she said. "I'd like my great grandchildren to be able to enjoy the place. It's quite magical, you know. Our generation was very lucky. It was paradise."
Jenny's proud to be a part of the Wilderness Committee. "You've been successful at putting on the brakes in several important areas. Someone's got to be flying the flag."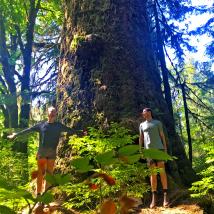 Kegan Pepper-Smith and Cori Creba
Vancouver
As avid outdoors people from Vancouver Island, we've spent a lot of time in places the Wilderness Committee has fought to protect. Attending the Annual Open House this year reaffirmed our belief that this organization continues to be at the forefront of efforts to combat climate change and preserve culturally and ecologically significant areas.
After asking each other what we could do to help – and mixing in a bit of friendly spousal competition – we both decided to become monthly donors.
 
It's clear to us that we're at an ecological tipping point. We couldn't be more proud and inspired to now be direct supporters of the Wilderness Committee's ongoing efforts to protect species, spaces and the climate so future generations can visit the same awe-inspiring places we have.
Photo: Maxine's Tree in Carmanah Walbran Provincial Park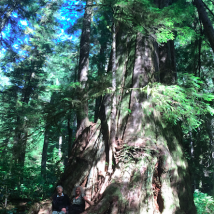 Alan Martin and Vivien Chenard
Salt Spring Island
Thanks so much for the Walbran tour, we will treasure the memory for many years. There were so many amazing places: the striking transition from the 30-year-old cut block to the old growth, the number and beauty of the ancient trees, the Castle Giant, and the highlight for us, the swim in the Emerald Pool. I think you could both see how moved we were by the majesty of the place.
We have made a  contribution to the Wilderness Committee, that was really due to your initiative in inviting us. So, thank you for the tireless, and sometimes thankless, work you do. If more people could have that experience there would surely be enough pressure on the government to save forests like these.
Much success to you.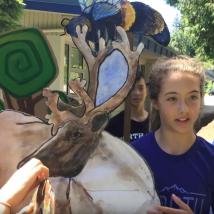 Maria
Power
Cleveland Elementary School, French immersion teacher
Students learn, engage, give back
At North Vancouver's Cleveland Elementary School, Grade 6 and 7 French immersion teacher Maria Power encourages her students to learn about and then take action on environmental issues. This year they more than doubled their annual fundraising efforts for the Wilderness Committee, raising over $1,300 for our work to protect endangered wildlife.
Students researched then shared their learnings with other classes about orcas and other endangered species, and the impact of plastics in the ocean. They sold tickets and created a VIP experience (a couch with popcorn and drinks served!) to a locally-produced movie The Clean Bin Project. Over 130 people attended, with no garbage produced! 
Cleveland student, Maya, said, "I was just surprised that a lot of people cared about this cause as much as we do." We are thrilled that Maria and her students chose the Wilderness Committee as the recipient of their amazing fundraising efforts.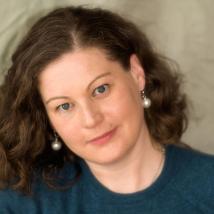 Michelle
Johnson
Donor Relations Manager
Proud to be both a Trailblazer and Wilderness Guardian, I've left a residual gift in my will to the Wilderness Committee and a few other charities with whom I share values and vision. I want to be remembered by friends, family and colleagues as a champion for Canada's wild. 
Growing up on a farm in Southern Ontario ingrained in me a deep connection with animals and the great outdoors. As a young woman, I sat in one of the groves targeted for logging on Ista (King Island to us settlers) as an invited guest of Nuxalk traditional leadership. Orange tape marked trees thousands of years in the making and my life forever changed. Knowing that I couldn't save that forest –those trees – only cemented my resolve to defend wild nature for future generations to enjoy and for the beings who rely on them for their survival. 
I've no children, property of some value and a distaste for leaders who can allow logging, mining or other inappropriate industrial development on unceded territories – without consent – for the benefit of too few. So this is my legacy – what I leave behind. When I can't continue to act, I know that the Wilderness Committee will do so on my behalf.  Having dedicated my life to big trees, grizzly bears, whales, whelks and bees this will be my final feat of activism. 
Will you join me in being remembered as a Wilderness Guardian?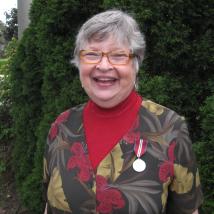 Janice
Palmer
BSc BEd MES LLD (Hon)
Protecting wilderness means protecting wildlife habitat.
Wildlife populations are under pressure from diverse sources, but loss of habitat is the biggest problem. The peculiar, personal bond I feel with all non-human life forms makes protecting them critical. That bond has increased continually throughout my life. I feel sad and ashamed that humans are responsible for the decline in the number of species, the population of many specific species and the health of those remaining. Love, respect and guilt make me willing to help protect our remaining wild communities. 
I first supported the Western Canada Wilderness Committee because I felt those of us in mid or eastern Canada should care about the western wilderness, not just remaining areas further east. The Wilderness Committee is one of many environmental groups that receive annual donations from me and is among a smaller list that will share my estate.