New conservancy announced in rare rainforest a kickoff in BC's biodiversity protection targets
Thursday, January 26, 2023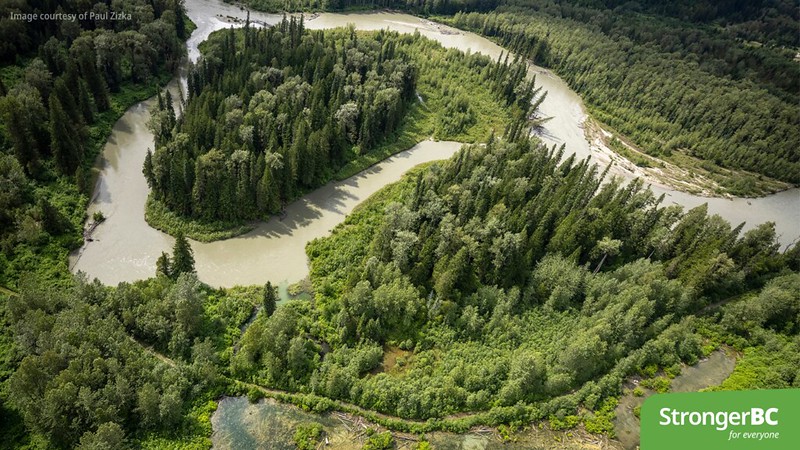 Wilderness Committee applauds leadership from First Nations and local conservationists, questions precedent of buying out logging tenure
VANCOUVER / UNCEDED xʷməθkʷəy̓əm, Sḵwx̱wú7mesh AND səlilwətaɬ TERRITORIES — The announcement of a new conservancy in the Incomappleux Valley called the Incomappleux Conservancy, established with the partnership with First Nations, becomes a welcome first step towards achieving goals committed during the UN Biodiversity Conference (COP15) last month. The new protected area is located at the confluence of the territories of the snʕickstx tmxʷúlaʔxʷ (Sinixt), Syilx (Okanagan), Secwepemcúl'ecw (Secwépemc) and ɁamakɁis (Ktunaxa) Nations southeast of Revelstoke.  

The new conservancy is the size of 150 Stanley Parks or 58,654 hectares. It is habitat for an impressive catalogue of species from grizzlies to endangered bats and threatened southern mountain caribou to diverse fungi, over 200 lichen species and at-risk plant species and monumental red cedar trees more than 1,000 years old.

"The Incomappleux is a globally significant ecosystem and a haven for many species at risk we've been working to protect for decades," said Conservation and Policy Campaigner Charlotte Dawe. "It's encouraging to see this protection as part of B.C.'s new conservation target and the B.C. government finally acknowledging that protecting wildlife requires protecting habitat."

Just a month ago, governments from around the world gathered at COP15 in Montreal and signed the Kunming-Montreal Biodiversity Framework. A key goal of it is to protect 30 per cent of the land and water by 2030. The conservancy announced this week by the B.C. government kicks the target into motion. 

The Incommapleux Conservancy was developed in partnership with the First Nations whose territory includes the valley. This is an encouraging development, in line with the biodiversity framework. The valley has also been championed for conservation for decades by groups like the Valhalla Wilderness Society.

"Anything B.C. or any other province does around biodiversity protection must be from a rights-based approach, with free prior and informed consent from Indigenous Peoples," Dawe said. "At the United Nations conference, the International Indigenous Forum on Biodiversity made it clear that a rights-based approach is essential to achieving biodiversity targets."

Under the parks and protected area system, a conservancy does not allow commercial logging, mining and large-scale dams. Conservancies enshrine and recognize the importance of the land for First Nations for social, ceremonial and cultural use as well as traditional low-impact, compatible economic activities. 

The Incomappleux Valley is one of the nine areas where old-growth logging was deferred in September 2020, when the Old Growth Strategic Review was released. In the following years, First Nations, the Nature Conservancy of Canada, Interfor Corporation and the province explored options for protecting its unique ecological values. 

"As far as we're aware, this is the first example of an old-growth deferral being turned into another form of protected area, and that's good to see," said National Campaign Director Torrance Coste. "We're excited to see the B.C. government act quickly to achieve the 30 by 2030 targets it has committed to, which means another 200 protected areas this big are needed in the coming seven years."

The Wilderness Committee is concerned about the forest tenure buy-out that accompanied the Incommapleux Conservancy deal. Logging giant Interfor received an undisclosed sum to release around 75,000 hectares of land from its tree farm license. It's an arrangement that could limit and increase the cost of conservation if deals like this become the norm.

"While we're happy with the new conservancy, this must not set a precedent for the government to only protect areas where logging companies are willing to do so with compensation,"  Dawe said. "Premier David Eby cannot rely on costly corporate buyouts to protect old-growth forests and life-giving biodiversity.

The Wilderness Committee will continue calling on the B.C. government to invest more time and resources in immediate measures to safeguard endangered areas and support First Nations and communities to protect important ecosystems permanently.
-30- 

For more information, please contact:

Charlotte Dawe | Conservation and Policy Campaigner
1-778-903-3992, charlotte@wildernesscommittee.org
Fancy meeting you here at the end of this article! Care to hang out together for a few more sentences?
The campaign you just read about is one of about 20 we're actively working on at any given time. And the person who wrote this article is the same campaigner who's asking you to take action, who's calling on our legislators to make changes and who's in the field to bring you photos, videos and stories documenting this issue.
Did you notice how we're a bit distinct, that we're not afraid to call out the industries or governments that threaten what's wild? Unlike other groups, we're almost 100 per cent* "people powered." Individuals like you who care give what they can, when they can. No corporate or government funding restricts our strategies, our actions or our voice. That's how we stay a lean, nimble and unequivocally relentless voice for wilderness, wildlife and the climate. That's why we'd love it if you'd consider joining us by making a monthly donation to the Wilderness Committee today.
LET'S MAKE A DIFFERENCE TOGETHER
We've already established you like to read to the end, so here's the fine print. It's 96 per cent of our funding which comes from individuals like you and me. About four per cent of our total funding comes from a few grants from foundations. Every gift — no matter the size — has an impact and powers our work for nature.