New Nature Agreement sets the table for doubling protected areas in BC
Friday, November 03, 2023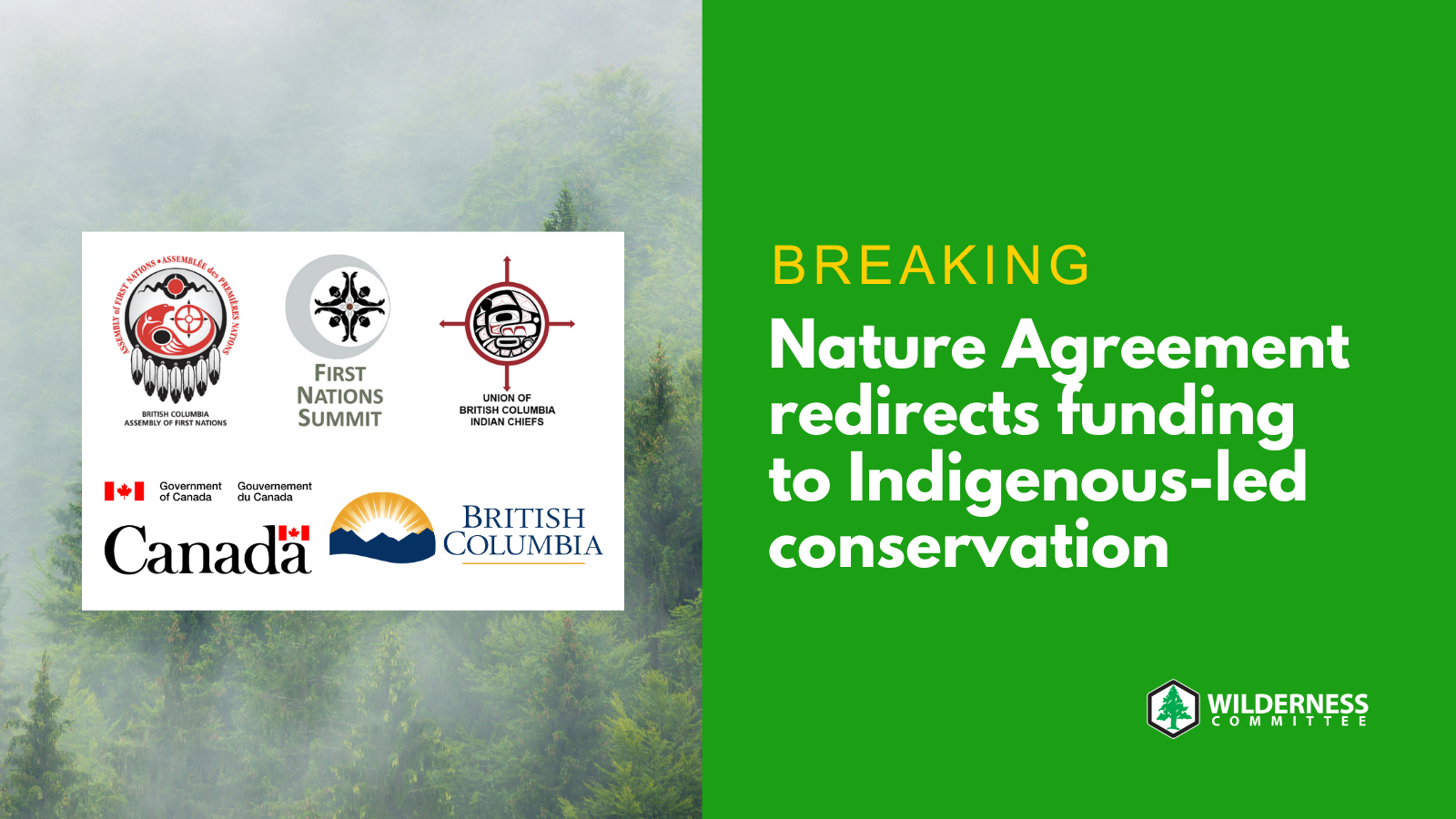 Tripartite Agreement directs $1 billion from previously announced programs to fund Indigenous-led conservation projects

VANCOUVER / UNCEDED xʷməθkʷəy̓əm, Sḵwx̱wú7mesh AND səlilwətaɬ TERRITORIES — A new Nature Agreement between the governments of Canada and British Columbia and the First Nations Leadership Council was announced today in Vancouver, allocating one billion dollars from existing programs towards increasing protected areas in B.C. The agreement is intended to fulfill B.C.'s goal of protecting 30 per cent of the land and sea area by 2030 but stops short of detailing necessary legislative changes for intrusive industrial projects or clarity on what activities are allowed within a protected area.

In 2022, the Nature Agreement was first reported as a deal between British Columbia and Canada. However, thanks to the work of the First Nations Leadership Council, which includes the Union of BC Indian Chiefs, the Assembly of First Nations, and the First Nations Summit, it has now become a three-way agreement.

"We hope this agreement will finally bring respect for the sovereign decision-making rights of First Nations and provide the resources and capital needed to conserve their territories in line with their wishes," said Conservation and Policy Campaigner Charlotte Dawe. "How the provincial and federal governments meet this intention is incredibly important as all interested First Nation communities must have equal access to funding for conservation, which until now has been restricted and conditional."

The Wilderness Committee is encouraged to see the explicit goal in the agreement to partner with First Nation communities to increase protected areas from around 15 per cent today to at least 30 per cent by 2030, along with the additional goal of environmental restoration across additional areas. However, the group says the agreement is missing specific ecosystem-based targets to ensure new protected areas conserve the most ecologically threatened parts of the province. Both the provincial and federal governments have indicated a "protected area" does not necessarily exclude industrial activity, a detail that concerns the Wilderness Committee.

British Columbia has more biodiversity than any other province or territory in Canada but also the highest number of species facing extinction. Despite this, the province lacks stand-alone legislation to protect species at risk, and the BC NDP government backed away from its promise to develop a law in 2018. The Wilderness Committee says new legislation is required to change how industrial activities can operate on the land to prioritize the protection of wilderness and wildlife and is awaiting action on this commitment this fall.

"We're happy to see this alignment of intention from three levels of government, but we know provincial and federal laws don't yet safeguard nature and biodiversity. That needs to change," Dawe said. "Clarifying that a billion dollars allocated in federal and provincial budgets will go towards doubling protected lands and waters in B.C. in less than seven years is a good thing, and that's what we'll hold these governments accountable to."

The tripartite Nature Agreement rededicates funds to protect endangered old-growth forests, which the BC government promised to protect more than three years ago. But while this agreement was being developed, at-risk old-growth forests were and continue to be cut down at largely unchanged rates, including in the habitat of endangered species like the spotted owl and southern mountain caribou. Interim measures such as logging deferrals that ensure threatened ecosystems can survive to become part of new protected areas have been limited to date, and no new interim measures are included in today's announcement.

"The BC NDP government has a long track record of making promises and pledging funding towards conservation at flashy press conferences. But out on the land, we've seen thousands of hectares of irreplaceable forests destroyed since they've been in office and very little protected," said Associate Director Torrance Coste. "Now, the government has finally clarified this funding can be used to remove areas from logging tenures and formally protect them through Indigenous leadership. B.C. has no more excuses and no more time to waste."

The Wilderness Committee will continue to pressure the provincial and federal governments to move quickly to honour the commitments in the Nature Agreement and develop clear ecosystem-based targets for new protected areas. The organization continues to call on B.C. to develop a strong biodiversity law in partnership with First Nations and to implement additional interim measures to prevent ongoing loss of biodiversity and old-growth forests while new conservation plans are developed.
 
-30-

Charlotte Dawe, Conservation and Policy Campaigner
1-778-903-3992, charlotte@wildernesscommittee.org

Torrance Coste, Associate Director
1-250-516-9900, torrance@wildernesscommittee.org
Fancy meeting you here at the end of this article! Care to hang out together for a few more sentences?
The campaign you just read about is one of about 20 we're actively working on at any given time. And the person who wrote this article is the same campaigner who's asking you to take action, who's calling on our legislators to make changes and who's in the field to bring you photos, videos and stories documenting this issue.
Did you notice how we're a bit distinct, that we're not afraid to call out the industries or governments that threaten what's wild? Unlike other groups, we're almost 100 per cent* "people powered." Individuals like you who care give what they can, when they can. No corporate or government funding restricts our strategies, our actions or our voice. That's how we stay a lean, nimble and unequivocally relentless voice for wilderness, wildlife and the climate. That's why we'd love it if you'd consider joining us by making a monthly donation to the Wilderness Committee today.
LET'S MAKE A DIFFERENCE TOGETHER
We've already established you like to read to the end, so here's the fine print. It's 96 per cent of our funding which comes from individuals like you and me. About four per cent of our total funding comes from a few grants from foundations. Every gift — no matter the size — has an impact and powers our work for nature.