160+ organizations call on BC to follow through on old-growth commitments
Tuesday, January 10, 2023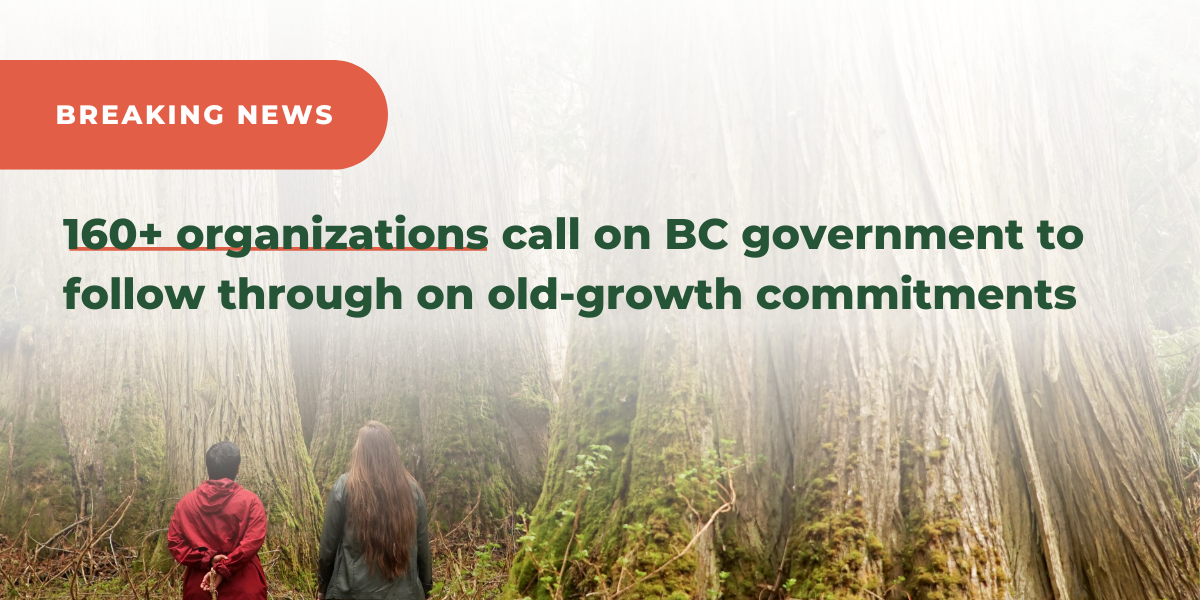 Groups announce Feb. 25 rally at provincial legislature, issue declaration calling on the province to accelerate action for threatened forests

UNCEDED LEKWUNGEN TERRITORIES/VICTORIA – 168 organizations across British Columbia have issued a declaration called United We Stand for Old-Growth Forests, calling on Premier David Eby and his government to fulfill their commitments on old-growth.  
Signatories of the declaration, including the Union of B.C. Indian Chiefs, the Climate Caucus network of municipal elected leaders, and B.C. General Employees Union (BCGEU), are urging Eby to follow through on his October 2022 promise to "accelerate" action to protect old-growth forests within 100 days, and implement a paradigm shift in forest stewardship to safeguard biodiversity. 
The organizers announced plans for a mass mobilization to hold the province accountable, with a march and rally scheduled for February 25, Eby's 100th day.
"The government's continued negligence and stonewalling on truly protecting old-growth and elder trees is endemic in its approach to climate change and the stewardship of our environment," said Grand Chief Stewart Phillip, President of the Union of B.C. Indian Chiefs. "This feigned ignorance of what is happening to our forests by government and industry will be our downfall, and the impacts of this inaction will prevent us from leaving our future generations with a rich legacy of vibrant, healthy and productive forest lands." Phillip added. "We must do everything in our power to protect these ancient giants and we cannot stop putting pressure on our governments to do their jobs: to protect us and the environment, not act as timber barons whose only concern is this year's financial statements."
Despite promising to implement all 14 recommendations from the Old Growth Strategic Review (OGSR) in 2020, the B.C. government has permitted the destruction of thousands of hectares of the most at-risk old-growth stands in the province. The 2020 recommendations were tied to a three-year framework with the goal to have all implemented in 2023 — to date, not a single recommendation has been fulfilled. 
Premier Eby pledged to accelerate action upon becoming leader of the B.C. NDP, and called on Water, Land and Resource Stewardship Minister Nathan Cullen to "begin implementation of recommendations of the Old Growth Strategic Review" in his mandate letter. However, the most at-risk old-growth forests are still being clearcut while B.C. stalls on enforcing logging deferrals. The deferrals are the bare minimum and most urgent recommendation of the 2020 OGSR.
"We must continue to hold our governments accountable for their contributions to the climate crisis that we are suffering through, and this environmental negligence and corporate greed must be stopped," said Kukpi7 Judy Wilson, Secretary-Treasurer of the Union of B.C. Indian Chiefs. "Our future generations are dependent on the actions we take today, and we are at a critical point in time for direct action to protect forest ecosystems. For too long we have allowed governments to tear down our ancient elders, who are our relatives, but no more. We are standing up to protect them." 
Protecting the last stands of old-growth is as much an issue for human rights, labour, education, and healthcare as it is for environmental groups. Organizers say this is a movement for all people, which is reflected in the list of declaration signatories, and are inviting all individuals and groups to participate in the United for Old-Growth march and rally at the B.C. Legislature on February 25.
The signatories are calling on the province to align all forest management with the principles of free, prior and informed consent for First Nations. The declaration draws on the Union of B.C. Indian Chiefs Resolution 2022-32, affirmed by Chiefs in June 2022, and calls for full financial support to enable logging deferrals, and fulsome funding for First Nations-led conservation initiatives. 
Organizers say the declaration is open to additional signatories and invite new groups to join and demonstrate the broad support for old-growth protection in the lead-up to February's mass mobilization.
"Whether it's youth yearning for a liveable climate, working families seeking sustainable jobs in their communities, doctors and nurses speaking up for a healthy planet, Indigenous people defending what's theirs, or faith, environmental and community groups standing up for irreplaceable ecosystems, protecting old-growth is a movement for everyone," said Jackie Larkin, organizer with Elders for Ancient Trees, a founding signatory on the United We Stand declaration. "From elders to the youngest children, everyone belongs and all are welcome -- we invite all organizations to join this declaration, and everyone who's able to unite with us to make February 25th a day to remember."
—30—

For more information, contact:

Union of B.C. Indian Chiefs:
Grand Chief Stewart Phillip, President
250-490-5314
Ellena Neel, Communications Manager
778-866-0548, eneel@ubcic.bc.ca

Torrance Coste, National Campaign Director, Wilderness Committee
250-516-9900, torrance@wildernesscommittee.org

Jackie Larkin, Organizer with Elders For Ancient Trees
250-478-7604, jlarkin@gddc.com
Fancy meeting you here at the end of this article! Care to hang out together for a few more sentences?
The campaign you just read about is one of about 20 we're actively working on at any given time. And the person who wrote this article is the same campaigner who's asking you to take action, who's calling on our legislators to make changes and who's in the field to bring you photos, videos and stories documenting this issue.
Did you notice how we're a bit distinct, that we're not afraid to call out the industries or governments that threaten what's wild? Unlike other groups, we're almost 100 per cent* "people powered." Individuals like you who care give what they can, when they can. No corporate or government funding restricts our strategies, our actions or our voice. That's how we stay a lean, nimble and unequivocally relentless voice for wilderness, wildlife and the climate. That's why we'd love it if you'd consider joining us by making a monthly donation to the Wilderness Committee today.
LET'S MAKE A DIFFERENCE TOGETHER
We've already established you like to read to the end, so here's the fine print. It's 96 per cent of our funding which comes from individuals like you and me. About four per cent of our total funding comes from a few grants from foundations. Every gift — no matter the size — has an impact and powers our work for nature.