Peg City Climate Jam: Resilience On The Red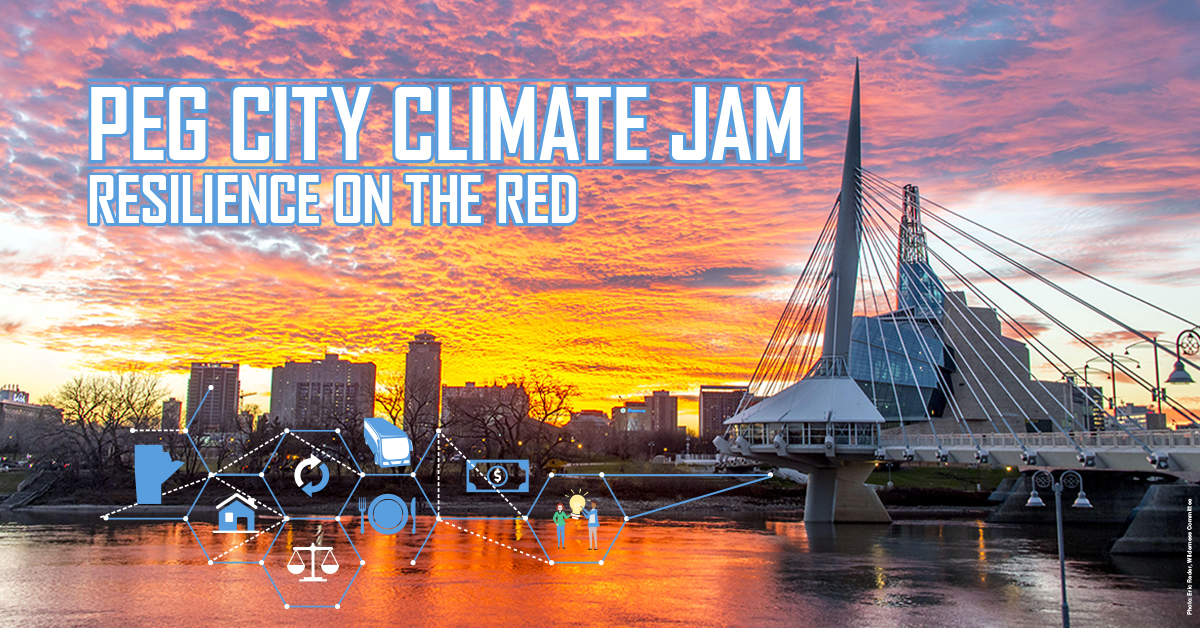 Saturday, February 09, 2019 7:00am - 3:00pm
599 Portage Avenue, Winnipeg, MB
When: Saturday, February 9, 2019 | 8:30am - 5:00pm
Where: University of Winnipeg - Richardson College for the Environment, 599 Portage Ave.  Accessible venue.
Free event. Please register in advance here.
Join us for a day-long forum exploring the urgency of climate change and the transformative solutions emerging in our communities.  
Our goal with this event is to help people connect, collaborate, plan, and take action on our local, green transition.
We are hosting talks and workshops facilitated by a team of educators, activists and climate-change leaders. These are intended for everyone concerned about our future, our planet, and our social well-being.
The program explores:
Building resilience for food, shelter and transportation without fossil fuels

Indigenous justice and decolonizing our responses to climate change

Strategies for reducing human impact on climate and the environment

A just transition to a zero-emissions economy

Nature's role in combating the climate crisis
Free event. Please register in advance here.
Event Schedule
8:30-9:00 Sign-In and Workshop Registration
9:00-9:20 Welcome and Elder Address
9:20-10:10 Presentations from Prairie Climate Centre and Geraldine McMannis, Dakota organizer from the Spirit of the Buffalo Camp, with Q and A to follow.
10:10-10:40 Facilitated Brainstorming
10:40-11:00 BREAK
11:00-12:15 Workshop Session 1: 
Indigenous Knowledge on Water in a Changing Climate with Nataanii Means and the Manitoba Water Caucus
Energy Efficient Homes: Comfortable and Affordable with Climate Change Connection
Why a Carbon Tax? What are the Costs and Benefits? with the Canadian Centre for Policy Alternatives
Functional Feasting: Building Food Resilience with Climate Change Connection
Dehydration Workshop with Dehydration Nation
12:15-12:55 LUNCH
1:15-2:30 Workshop Session 2: 
Movement Building with Manitoba Energy Justice Coalition
Climate Action Is In Our Nature with the Wilderness Committee
Buy Less, Fix More, Trade Often with Green Action Centre
Human Transit: A Dramatically Better Approach to Bus Service with Climate Change Connection 
Whither Alberta? Climate Change, Inequality and Migration with the Canadian Centre for Policy Alternatives
2:30-3:30 Closing Remarks
 
Free event. Please register in advance here.
If you have questions, please contact:
contactmb@wildernesscommittee.org
204-942-9292
This is the first in a series of events hosted by Manitoba's Climate Action Team, a coalition of organizations advocating for a non-partisan, specific, and actionable path for achieving climate resilience and a zero-emissions economy in Manitoba. 
Partners include: Manitoba Eco Network, Climate Change Connection, Green Action Centre, Prairie Climate Centre, Manitoba Energy Justice Coalition, Canadian Centre for Policy Alternatives- Manitoba Chapter, and the University of Winnipeg's Sustainability Office.